Kelsea Ballerini Claps Back At Relationship Rumors With "Outer Banks'" Star Chase Stokes
Kelsea Ballerini addresses internet accounts commenting on her affiliation with Hollywood actor, Chase Stokes.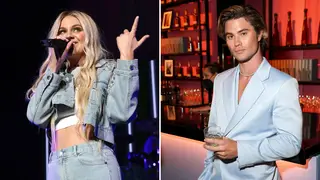 "Outer Banks" star Chase Stokes sparked relationship rumors over the weekend with Kelsea Ballerini, and now the country hitmaker is setting the record straight. 
The Hollywood actor initially shared (Jan.13) a photo of him getting cozy with the "Love Is A Cowboy" singer at the Georgia vs. TCU game at SoFi Stadium in Inglewood, California. The snapshot featured the two cuddling in the stands, while another photo uploaded by Raising Cane's founder, Todd Graves also showed the two together.
Shortly after Stokes shared the mushy snapshot – Ballerini commented, "Go Vols," a nod to her hometown team, the Tennessee Volunteers. Graves hosted the pair and other actors, influencers, and musicians in an exclusive VIP box. 
The intimate sightings immediately caused romance speculations, leaving fans wondering if the A-listers are an item or not. One gossip account went the extra mile to make a poll, asking followers their opinion on the status between Ballerini and Stokes. 
The award-winning artist turned to TikTok Monday (Jan.16) to share a screengrab of the post addressing her affiliation with Stokes. The authorized account, DeuMoi, believes that their connection thus far is a "PR play." 
Their followers were encouraged to pick between three options – "Relationship confirm," "They are prob just hooking up," and "They are just friends."  
Ballerini was fast to fire back. 
"I know, I know, I know. Stop reading, stop reading. Stop looking," declared the vocalist with the screengrab on full display. "But what is happening, guys? What? Let's not do this," she added. 
The short and sweet caption expressed her frustration. 
"I'm about to break up with the internet 5 sure 😂."
Although the singer-songwriter vocalized her concern, she did not confirm or deny the potential romance. 
"Are you happy? Because that's all that matters. Whether or not it's true, doesn't matter. Your happiness does," wrote a fan in the comments. "You don't owe anyone any type of explanation," declared another. 
Nearly three months ago, Ballerini finalized her divorce from country star Morgan Evans. The country couple was married for five years, after hitting it off at the CMC Music Awards in Australia.
"This deeply difficult decision is the result of a journey of love, growth, and effort that ultimately has come to an end,"  Ballerini previously shared. "It's hard to find the words here…but I feel extremely grateful for the years of marriage to Morgan and hopeful for the next seasons." 
The small-screen heartthrob publicly dated his co-star, Madelyn Cline [25]. Stokes and Cline were in a romantic relationship from April 2020 to November 2021.