Recap: Kenny Chesney Launches 2023 I Go Back Tour
Kelsea Ballerini joins Kenny Chesney on stage during opening night.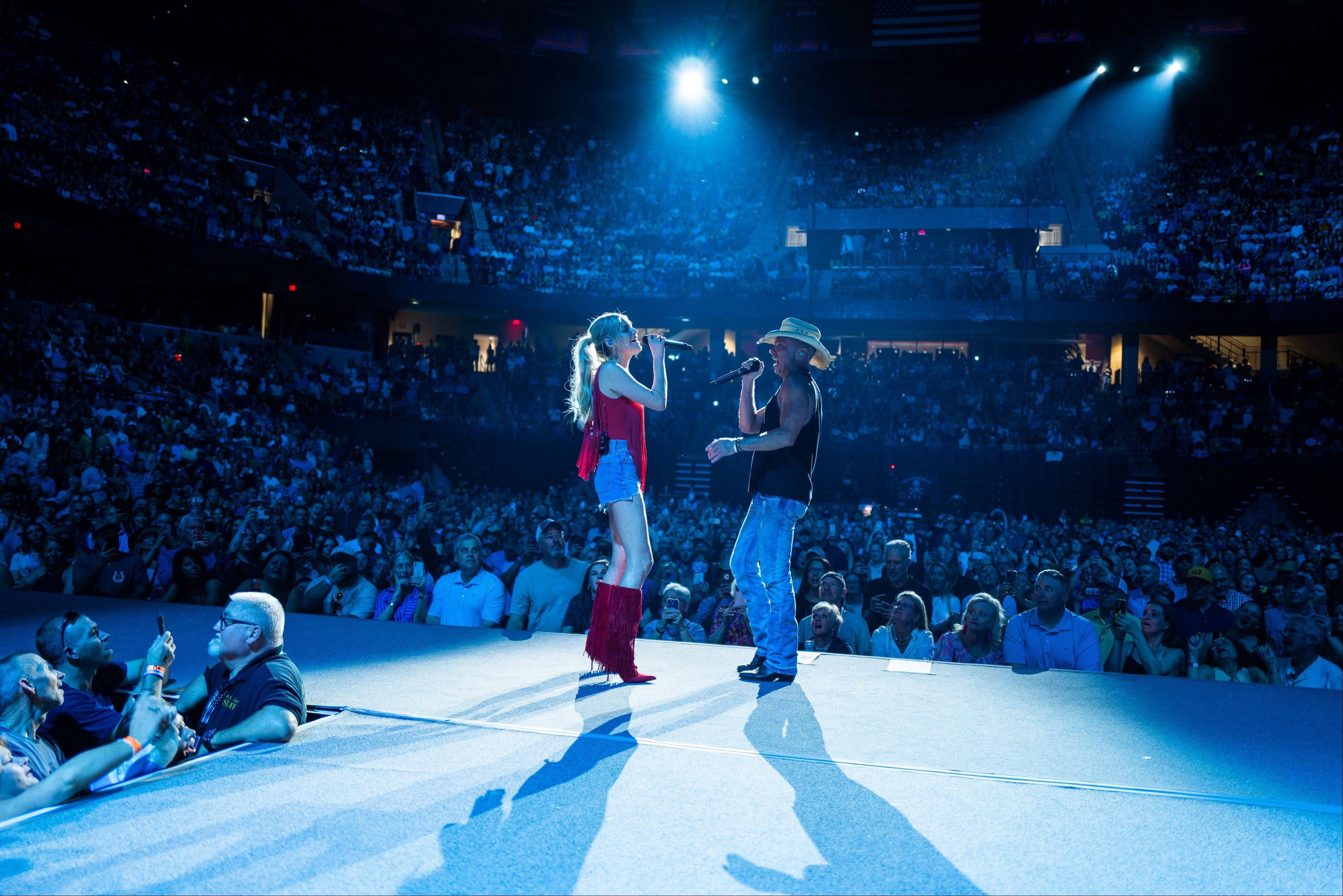 Kenny Chesney launched his I GO BACK 2023 TOUR this week at John Paul Jones Arena in Virginia, which he opened in 2006. According to a press release, the venue is one of the smallest Chesney has played in years, but it was filled with more than 13,000 fans. 
He kicked off the show with "Til It's Gone" and played 29 songs throughout the night for a set that stretched more than two hours. 
Chesney structured his I Go Back 2023 Tour to revisit many of the places he's played and memories he's made over the years. He added fan-favorite songs into the show including "The Good Stuff," "Don't Happen Twice" and "Beer Can Chicken" as a medley. Chesney spent the night working the T-shaped stage, showcasing the musicians and interacting with fans.
"All The Pretty Girls" led into "Living In Fast Forward," "Young," "Noise" and "Wild Child." Kelsea Ballerini, Chesney's support act for the tour, joined him on the song wearing red fringed top with matching stiletto knee-high boots to cover Grace Potter's signature harmonies.
"I wanted to bring all the power and all of the passion that we have at those stadium shows," Chesney said after the show. "I want every single person who's in the room to know how much we love them, to feel as good as they've ever felt, and to go home hoarse from the cheering and singing. Charlottesville, Virginia, sure made the opening night feel like the biggest stadiums."
Chesney's 2022 tour was among the most successful in any genre – having the fifth biggest tour after Bad Bunny, Elton John, Mötley Crüe/Def Leppard and Harry Styles. 
I Go Back 2023, with special guest Kelsea Ballerini, is presented by Blue Chair Bay® Rum.