CMT Next Up Now: Harper O'Neill Makes Acting Debut In Music Video "Somebody"
Harper O'Neill's debut album, "Dark Bar Daisy," will be available Oct. 6.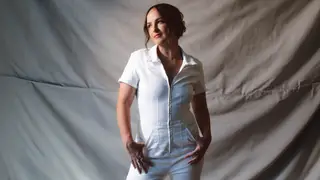 Country singer Harper O'Neill brings her smokey Texas soul sound to the genre and her unmistakable voice and unique vibe are on display in her video for "Somebody."
O'Neill penned the song with Meg McRee about how she hopes her love interest is single. Jake Gear produced the song, and Ryan Nadzam produced and directed the music video.
"We shot the video in the basement of a cool spot in east Nashville," O'Neill said. "I remember there were offices right above the space, so we had to be kind of quiet. It's funny to see the high energy of the final product now because I was sort of talk whispering to a very soft playback of the recording!"
O'Neill, who CMT has named a Next Up Now artist, said she wanted to capture a daydream feeling in the music video and that the quick movements between the three distinct scenes gave her that feeling.
"It's aesthetically super playful and fun, and I feel like it holds the essence of the song very well," she said of the clip. "I hope the fans get to know me a little bit through this video. I hope they are fired up to come see the live show and know to expect good vibes and good times."
O'Neill said she's not an actor, so she was nervous to watch the "Somebody" music video for the first time, but she couldn't be happier with the finished product.
"This was my first real experience being in front of a camera like that," she said. "My biggest hope was that I would watch it back and really feel like I look like myself. I'm still learning so much, but I'm proud my style, goofiness, and love for music are showcased in this video."
O'Neill's debut album, "Dark Bar Daisy," will be available Oct. 6.