NEEDTOBREATHE Taps Old Dominion, Carly Pearce For New Album, Says Band Is More Country Than Pop
NEEDTOBREATHE singer Bear Rinehart: "I'm from a town called Possum Kingdom, South Carolina. We've always played banjos and mandolins."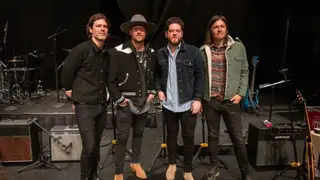 Bear Rinehart, singer for multi-platinum rock band NEEDTOBREATHE, had a revelation.
The band would rather play Stagecoach than Coachella.
"Maybe we're more country than pop," Rinehart said. "We're probably not country, but we're not that."
Rinehart's epiphany is reflected on NEEDTOBREATHE's eclectic new album "CAVES." The collection is the group's ninth and includes collaborations with Carly Pearce and Old Dominion, along with folk rock group Judah & The Lion and Irish singer/songwriter Foy Vance.
"I think it was really just natural," Rinehart said of the collaborations, explaining he moved to Nashville five or six years ago.
He met Old Dominion when both groups played at an Allman Brothers tribute and realized in conversation what big fans they were of NEEDTOBREATHE.
"We realized how similar we were, and I think it was a realization for us," he said. Old Dominion is featured on the southern rocking "Wasting Time."
"The Carly Pearce thing happened so naturally because we wrote this song, and we're like, 'We need a female voice on this,'" he said of "Fall On Me."
NEEDTOBREATHE members listened to a plethora of female voices and thought Pearce was a terrific fit because her voice is soulful, inviting and meaningful.
"She was our first choice, and we called her up and found out that she was also a fan of what we've done, which made it really easy," Rinehart said. "So I think it's just a matter of like, 'Man, we're in a music community here in Nashville, and we're just putting two and two together.'"
The band wrote "CAVES" after the pandemic in two settings – the first during a getaway in Utah and then after they returned to tour life alongside OneRepublic. They filmed the process in a two-part documentary, "A World Without A Mirror: The Making of CAVES," that is on YOUTUBE now.
If Tom Petty was a new artist today, Rinehart is convinced he'd be a country singer. He said musical genres are evaporating because focus is shifting to playlists. While NEEDTOBREATHE has had rock hits, including "Brother," "Testify" and "Happiness," the changing soundscape leaves the band questioning where they fit in.
"I'm from a town called Possum Kingdom, South Carolina," Rinehart said. "We've always played banjos and mandolins. We don't really want to be pigeonholed in one thing or the other. But then, when you start to go and look at who you want to tour with, Chris Stapleton and Zac Brown come up. You see some similar DNA lyrically. The songs are important, sincere and vulnerable."
He calls country music "wide open" right now and feels like there is more opportunity to get music out than ever. Rinehart has never liked the idea of genre gatekeepers and points out that not all songs sound the same. But, he said, previously, if you don't play the game, you're not allowed on the stage.
"It could not be wider right now in terms of what you might hear from a country artist," he said. "I think that's incredible. We're just trying to make good records, and a lot of country fans are just good music fans who like a good show. That's the other thing that probably ties us together with so many of the country artists -- you expect to get a great show when you go see a country artist."
The live aspect of NEEDTOBREATHE has always held the utmost importance to the band. The group developed a fanbase that comes as much for the first song as the last. They're not just waiting for the hits.
"That's kind of the beauty of what we've been able to do," Rinehart said. "I feel like that's what we're most proud of is that we have an audience who just really likes a lot of our music and comes to it from all different places."