Chris Young and Chase Bryant's Fowl Move Against Pediatric Cancer
Deliver Animatronic Duck Therapy to Monroe Carell Jr. Children's Hospital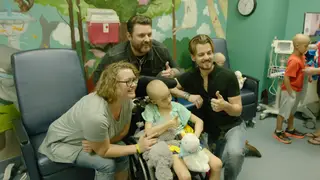 A few weeks before September's Childhood Cancer Awareness month, Chris Young and Chase Bryant took time to visit pediatric patients at the Monroe Carell Jr. Children's Hospital in Nashville to bring them a special gift.
Not only did they deliver an intimate acoustic round at the Ryan Seacrest Studios, but they also gave patients special animatronic ducks that were outfitted with interactive features that offer children with cancer the chance to find joy through play. They get to feed, bathe and treat their duck just like they are being treated.
"Having that interaction with kids who are going through a whole lot right now," Young told CMT.com, "they dealt with probably more difficulties today than I'll deal with [ever] relatively when you start looking at stuff that matters. Feeding your soul is truly what visits like this are."
Young also added the healing power of music played an essential role in his father's recovery from lung cancer.
"I actually drug him out on the road at one point," Young said. "I was like, 'I don't want you climbing up and down ladders all day,' because he's a tough construction worker. I just kept him with me.
"Music is one of those things that does play such a huge integral role in a lot of people recovering. I can't count the number of times I've had somebody walk up to me at a show and say your music got me through while I was in the hospital. It's just amazing the healing power that it does have."
Young's Losing Sleep tour continues tonight (Sept. 27) in Charleston, S.C.