Walker Hayes And Daughter Lila Choreograph TikTok Dance For Jo Dee Messina's "Heads Carolina, Tails California"
'90s icon Jo Dee Messina recently joined TikTok and turned to Walker Hayes for guidance – WATCH!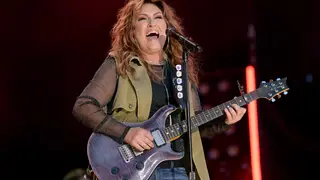 The country singer turned TikTok sensation jumped on social media late Monday (Oct. 10) evening to share a dance he created for the '90s hitmaker. The tutorial video is to Messina's chart-topping track, "Heads Carolina, Tails California."
Hayes called in his eldest daughter, Lila, to help out with the choreography. The teenager is the mastermind behind all of her father's viral routines – "Fancy Like," "U Gurl," "AA," and most recently, "Y'all Life."
The clip captures the three breaking it down on the front porch of Hayes' Nashville home. Messina and Hayes sported athleisure wear to move accordingly and perfect the honky-tonk ready line dance.
"Look who stopped by the porch today 💪💪😂 @jodeemessina #headscarolina," wrote the country crooner in the caption.
In less than 24 hours, the video garnered 500.1K views and 61.4K likes on TikTok alone. Country music fans ran to the comments to praise the unexpected collaboration.
"Never knew I needed to see this until I did," gushed a follower. "Holy Cow! This took me back to the glory days. Love her," added another.
The powerhouse vocalist also took to her personal account to reveal the high-energy two-step.
"Shut the front porch! It's @WalkerHayes!" she said.
"Heads Carolina, Tails California" was penned by critically acclaimed songwriters Tim Nichols and Mark D. Sanders. Messina recorded the love song and released it in 1996 as her debut single. Upon release, the smash hit broke into the Top 10 on both the United States and Canadian Country charts. The Byron Gallimore and Tim McGraw-produced banger lives on her self-titled album, which also includes fan favorites – "You're Not In Kansas Anymore," "Do You Wanna Make Something Of It," "I Didn't Have To Leave You," and more.
Most recently, Cole Swindell joined forces with Ashley Gorley, Jesse Frasure, and Thomas Rhett to re-construct the song and turn it into "She Had Me at Heads Carolina." The upbeat melody that resembles Messina's classic tune is included on Swindell's recently released LP, "Stereotype."
The tribute track scored Swindell the longest-reigning Country Airplay single of his career and has reached No.16 on the Billboard Hot 100 chart. To bring the retro tune to new heights, Messina made a cameo in the "She Had Me At Heads Carolina" music video.
"[Jo Dee Is] one of the artists that made me love country music," the vocalist told Billboard. "Just to honor that and '90s country music and to now call her a friend, and even having her in the video, it's hard to put into words. After 10 years of being in this business, it feels like a new beginning."
The beloved songstress is currently on the road. While making pit stops at world-renowned venues, Messina recently joined TikTok, hoping that her fans follow along. Hayes is on his headlining Glad You're Here Tour, but will be pressing pause to perform at CMT'S 2022 Artists of The Year ceremony on Friday, Oct. 14 at 9P/8C.