Kane Brown to Live Forever in 2019
22-Stop Tour "Is Not Just an Internet Thing"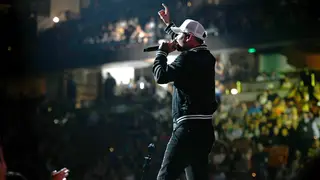 Here's what Kane Brown hopes people start to understand when he's out on tour next year: that he is here to stay.
Brown announced his first headlining tour -- the Live Forever Tour -- on Friday (Sept. 7), and it is set to kick off in Georgia in January 2019. Opening acts include Granger Smith, RaeLynn, Danielle Bradbery and newcomer Jimmie Allen.
"It's my biggest tour so far," Brown said. "We've been in clubs, and now we'll be playing for 8,000 to 10,000 people. We're excited to work on our production and get it bigger and just get on the road and out of the clubs.
"I think this tour is going to show people that it's not just an internet thing anymore. I think this tour is going to show people that we're here to stay. We're not going anywhere," he said, "and we're going to keep working our tails off. My team and my fans are going to keep growing and getting better and making a name for ourselves."
Here is a complete list of Brown's Live Forever Tour dates:
Jan. 10: Duluth, GA – Infinite Energy Arena
Jan. 11: Pensacola, FL – Pensacola Bay Center
Jan. 12: Columbus, GA – Columbus Civic Center
Jan. 17: Independence, MO - Silverstein Eye Centers Arena
Jan 18: Southaven, MS – Landers Arena
Jan. 19: Norman, OK – Lloyd Noble Center
Jan. 24: Huntsville, AL – Von Braun Arena
Jan. 25: Columbia, SC- Colonial Life Arena
Jan. 26: Orlando, FL – Amway Center
Jan. 31: Roanoke, VA – Berglund Center
Feb. 1: Corbin, KY – The Arena
Feb. 15: Rockford, IL – BMO Harris Arena
Feb. 16: Brookings, SD – Swiftel Center
Feb. 17: Grand Forks, ND – Ralph Engelstad Arena
Feb. 21: Manchester, NH – SNHU Arena
Feb. 22: Wallingford, CT – Oakdale Theatre
Feb. 23: Youngstown, OH – Covelli Centre
Feb. 28: Bloomington, IL – Grossinger Motors Arena
March 1: Cape Girardeau, MO – Show Me Center
March 2: Bossier City, LA – CenturyLink Center
March 7: Allen, TX – Allen Event Center
March 8: Cedar Park, TX – HEB Center