Reba McEntire's Restaurant Reba's Place to Live Stream Grand Opening Performance
Watch Reba McEntire perform at Reba's Place 6:45 p.m. Thursday on Facebook.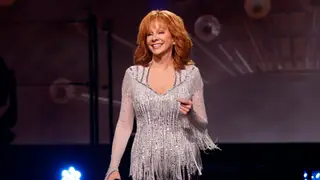 Interest surrounding Reba McEntire's new restaurant, Reba's Place, in Akota, Oklahoma, has been hotter than fried chicken since the Country Music Hall of Famer revealed plans for the multi-use bar, eatery, and concert hall in late 2021. The site is about 20 minutes from where she grew up in Chockie, Oklahoma. McEntire plans to convert an old Masonic Temple in downtown Atoka into her restaurant.
At the time of the announcement, McEntire thought Reba's Place would open in late 2022. However, the date got pushed back several weeks to early 2023. Reba's Place will have a grand opening on Thursday, and McEntire will perform. While the event is closed to the public, fans can watch the live stream 6:45p CT at Facebook.com/Reba. 
The venue includes two stories of dining space and a stage for live music. The menu includes popular regional dishes that are made from scratch. Highlights include the "Fancy" steak dinner, street tacos, chicken fried steak, and McEntire's favorite, pinto beans and cornbread. 
"We're really tickled; we're very excited about it," McEntire said of Reba's Place soon after she made the announcement. "It's going to have great food, family atmosphere, a bandstand in there where we can do a little pickin' and grinnin.'"
The main floor showcases a restored antique bar with a wide range of beer, wine and spirits. Reba's Place will feature a curated rotating collection of memorabilia from the singer's personal archives, and visitors can purchase McEntire's merchandise in the retail space. 
Reba's Place was formed in partnership with the Choctaw Nation of Oklahoma and the City of Atoka. The restaurant will include two stories and offer a themed menu, such as Reba's Fancy steak dinner and the country singer's favorite pinto beans and cornbread.
Reba's Place will be about 40 minutes from Blake Shelton's Ole Red restaurant, bar and concert space in Tishomingo, Oklahoma.