CMT Roundup: New Music From Brantley Gilbert with Blake Shelton and Vince Gill, Elle King, Jordan Davis and More
See CMT's CMT Roundup Playlist at the bottom of the story.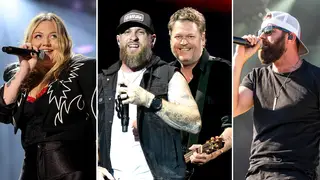 As Thanksgiving gets closer and closer, country music fans have even more to be thankful for when it comes to their favorite genre of music. This week is packed with big-name releases including Brantley Gilbert with Blake Shelton, Jordan Davis, Elle King, Cole Swindell with Jo Dee Messina and more. 
Brantley Gilbert, Blake Shelton, & Vince Gill "Heaven By Then": Country-rocker Brantley Gilbert joined forces with legends Blake Shelton and Vince Gill on his recently released single "Heaven By Then." Throughout the acoustic-soaked melody, the hitmakers describe a picture-perfect world they want to live in. Gilbert lures listeners in with the captivating hook, as Shelton tackles the second verse with his deep southern drawl. Gill steps in and intertwines his recognizable flair into the chorus, creating a chill-provoking harmony that is too astonishing to overlook.
"To have Blake Shelton and Vince Gill on the song meant so much to me. Those two brought so much to the table and gave it a voice I didn't have," said Gilbert. "We were all in separate places when we recorded, but it was a cool way for everyone to put their spin on it. They just did what felt natural, and sonically you hear that."
"Heaven By Then" was penned by Brock Berryhill, Jake Mitchell, Randy Montana, Hunter Phelps, Taylor Phillips, and BMI Songwriter of The Year Michael Hardy. The traditional track came to fruition in the wee hours of the morning during a songwriter's retreat in Texas. The collaboration lives on Gilbert's fifth studio album "So Help Me God," his first collection in three years.
"A guitar ended up in HARDY's lap, which is usually a good sign that it's about to turn into something special. I think we all knew that as it was being written. It came to life that night," shared the vocalist. "All of my albums up to this point have been spiritual or faith-based titles, and there's a reason for that. Faith is a huge part of my life, and I feel like God tends to bless us a little bit more when we share a little spotlight."
Elle King, "Jersey Giant": Genre-bending artist Elle King is wrapping up 2022 with a reflective cover of "Jersey Giant." Kentucky native, Tyler Childers penned the easy-going and unreleased track. "Jersey Giant" has become a staple at Childers' live shows, leaving country fans eager for an available version. While keeping the song's integrity with traditional country elements, King and critically acclaimed producer Charlie Worsham placed their own spin. While her soulful sound shines through in the first verse, the fiddle solo and bouncy chorus flawlessly transform the melody into the perfect Sunday morning melody.
"'Cause it's just two hours to get there, babe | I can make it back about an hour or so | Hold you close against my skin | I need a little warmth on a night so cold |Singing songs you used to sing," she sings. "The one about the lady in the long, black veil | Should've seen the warnings signs | But I loved to hear you wail | High and lonesomе, hard and strong | Even if it was a little out of tune."
The captivating rendition follows King's chart-topping hit "Try Jesus." Come January, the vocalist will release her highly anticipated album "Come Get Your Wife." The tracklist will include a handful of new songs and fan favorites like "Drunk (And I Don't Wanna Go Home)" with Miranda Lambert and "Worth A Shot" featuring Dierks Bentley.
Jordan Davis, "Part of It": Co-written by Davis, his brother Jacob Davis, Jordan Walker and Matt McKinney, "Part of It" is a tender coming-of-age mid-tempo that includes clever word play. The first verse tackles how falling in love can lead to a broken heart, and then how life changes as you grow up, lose family members and gain new ones. The song says, "It's all part of it."
"Part of It," is from his Davis' highly anticipated next album and a follow up to his recent CMA Song of the Year "Buy Dirt."
Cole Swindell, Jo Dee Messina, "She Had Me at Heads Carolina": Cole Swindell's homage to Jo Dee Messina, "She Had Me at Heads Carolina," was so successful that it was country music's only five-consecutive week chart-topper in 2022. The song was Swindell's fastest-rising hit of his career and his 12th No. 1 song.
The song was inspired by Messina's "Heads Carolina, Tails California." Now, it's getting a new life. The pair debuted the new version on the CMA Awards Wednesday night.
"Did y'all really think we were gonna leave you hanging without releasing a version of this song w/ @jodeemessina?!?" he wrote on Instagram Monday. "Such a full circle moment for this here 90's Country fan… the "She Had Me At Heads Carolina" Remix is OUT NOW! 🪙"
Swindell wrote the song with Thomas Rhett, Jesse Frasure and Ashley Gorley. While they got Messina's permission to do the song – she wasn't a part of the recording until now.