Off Stage with Garth Brooks in Sin City: Brooks Shares Uncertainty, Triumph Of Launching His Garth Brooks/Plus One Residency
Garth Brooks 2023 residency at Caesar's Palace sold out in one day last November. He recently added a host of 2024 dates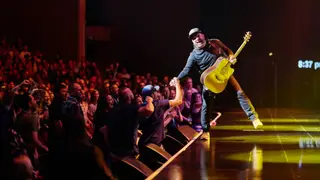 Servers carrying trays of macarons emblazoned with Garth Brooks' face circulate the club at Caesar's Palace, which had been closed for the night to celebrate Brooks' sold-out residency opening. The darkened space was lined with reserved booths, and a table piled high with jumbo shrimp, ahi tuna, and steak was at one end of the room. A stage was at the other. Guests sipped vodka and blackberry juice cocktails while they waited on Brooks and his wife, Trisha Yearwood, to arrive. When they did, the singers slowly circulated the room, greeting everyone and posing for pictures as if they had always known launching the two-year residency would go off without a hitch.
In reality, they didn't. Brooks said hours before the show that he wasn't even sure how he would open the event. He was nervous and uncharacteristically distracted.
"I feel unsure," he admitted before stepping into the spotlight. Brooks, wearing a Caesar's Palace hoodie, had been talking to the press for hours in a room near his stage. He had just stepped into a private area and sat down to rest. His staff and crew milled around, and knowing the curtain would go up in just a couple of hours, he struggled to stay focused.
"What I'm hoping is in the first five minutes, you've just melted," he said. "I'm hoping we've all just melted in the first five minutes, and I go, 'Okay, we can get this done.'"
He got it done and in a way that only he could. And also, in a way that would be difficult to repeat, reinforcing his assertion that every show of his Garth Brooks/Plus One residency at The Colosseum at Caesars Palace would be different. Tickets for his 2023 residency dates went on sale in November and sold out on the first day. He announced 2024 residency dates on May 18, the same day he launched the residency. While Brooks recently concluded a years-long stadium tour that catered to millions, the 4,300-seat Colosseum theater is giving him pause.
In daily conversation, Brooks never raises his voice. If he wants someone to pay attention, he gets quieter. In a tone barely above a whisper, he explained that the last time people saw him play, he had an opening act to start the show and a countdown screen that signaled his arrival.
"Boom," he said. "That's all programmed. 'Ladies and gentlemen, Garth Brooks,'" he quoted. "Now, when I walk out there, what am I going to do? How do you prepare for a show that's built by the people but without the people? We'll see."
A few minutes after the 8 p.m. start time, the auditorium was nearly full as fans continued to file in to find their seats. The house lights were still on, and cheer erupted as fans spotted Jelly Roll attempting to sneak into the auditorium with his daughter, Bailee.
The room went dark, and Brooks opened his residency with a soundcheck. He walked out, took his cap off, waved it in the air, and opened his arms.
"You all have a seat," he said. "We're going to be here all night."
He explained that how a room sounds with people in it is very different than how it sounds empty, and since he had never played the room with people in it, he said he was "going to do something very unprofessional."
He carried his guitar to the right side of the stage and strummed. The crowd roared. He commented he liked that side of the stage because of how loud they cheered. Then he repeated the process on the left side and in the middle.
With his signature headset microphone in place and seemingly satisfied that his guitar is in tune and the sound is well-honed, he launched into Bob Seger's "Against the Wind." The audience lept to its feet to give him a standing ovation, to which Brooks comedically replied: "People, the show hasn't even started yet. We're just sound checking!"
Brooks followed with a cover of Keith Whitley's "Don't Close Your Eyes" and received another enthusiastic response.
"I don't know what you came for, but it's going to be a lot of country music," he quipped. "And we're still sound checking."
Then Brooks walked off the stage, lowered his voice and announced himself.
"Ladies and gentlemen, the greatest entertainer I've ever known, Garth Brooks!" he bellowed in his best announcer voice.
Brooks burst onto stage, officially opening his show with "She's Every Woman."
He brings the same energy he brought to his stadium show and seems genuinely tickled at the crowd's thunderous reception. Brooks talked about the differences between his first Las Vegas residency at The Wynn, which was a one man show, and his new Caesar's Palace Plus One experience.
"When it came time and we needed a little muscle (on stage) all you had was a chubby guy who used his guitar to hide his gut," Brooks said.
The curtain raised to reveal the band, which immediately started playing "Rodeo." Before the concert, Brooks said he was down the a skeleton crew but all of the players and background singers who have been with him for decades are still there.
"Rodeo" flows into "Two Of A Kind Working On a Full House," and fans screamed the lyrics along with him.
"This is so cool," he said. "I didn't expect this. I absolutely hate singalongs," he added, joking. "We won't be doing anymore singalong tonight."
He followed with "Two Pina Coladas," an undeniable singalong favorite.
Brooks answered questions from the audience, the first of which was about his induction into The Country Music Hall of Fame. He used it as an opportunity to talk about his heroes who sang for him the night of his Medallion Ceremony in 2012 – George Strait, James Taylor and Bob Seger.
"Everybody before you is a God, and everybody after you is a punk," Brooks said, then emotionally recounted the night.
He jumped back into his hits, ripping through "The Thunder Rolls," "Shameless" and "Callin' Baton Rouge" as the crowd sang along with a ferocity that glorified the song as much as the artist.
Yearwood joined him stage on a set of duets then capped it with "She's In Love With The Boy," accidentally forgetting the words. Brooks jumped in to help her out.
By the end of the night, his set list included a trio of Strait's hits, The Nitty Gritty Dirt Band's "Fishing In The Dark," "Randy Travis' "I Told You So," Brooks hits "The Wolves," "The Dance" and "Friends In Low Places" with the elusive third verse and more.
"The biggest difference between The One Man Show and this one is that on the last one we never sang the third verse," he said. "I think it's time we jerked a knot in somebody's tail and played that third verse."
After the show, Brooks joined his band for a bow.
The audience filed out and more than 100 attendees headed to the party. Jelly Roll arrived at the private event before Brooks and laughed that he didn't realize the crowd was cheering for him when he walked in.
"I was looking to see who they were excited about," he said. "It's still new to me."
Jelly Roll couldn't stay long – he had to get back on his bus to head to California. But everyone else waited on Brooks. His daughter, Allie Colleen, was there and carried a cocktail and a small plate of food to the couch. Someone called his name from the stage and Brooks and Yearwood slowly made their way through throngs of people to the front of the room.
"I am truly speechless at what we just saw tonight," said Anthony Carano, President and COO of Caesar's Entertainment, from the podium. "Unbelievable performance and the greatest honor for Caesars Entertainment to have the greatest entertainer of all time in residency at the Colosseum. It's going to be an unbelievable time. Tonight was just the kickoff and was absolutely incredible. And as Garth would say, 'Good ride, cowboy. Good ride.'"
The party ended, and the singer started texting people he thought would be at the event but didn't have the chance to greet. He expressed disappointment when his guests explained they were there; he was too busy to approach.
He took some time to process the success of opening night but took no credit for himself.
"I'll take that crowd anytime," he said. "Unreal."
The following day he had a different type of job. He wanted to take his band and crew shopping at the mall.
"People are getting here and going, 'Okay, I really need this,'" Brooks said. "They're here in these rooms for three weeks because they're not going home. I was like, 'Oh my God. Okay. That's, that's weird for a tour.' We're just trying to get used to it."