Megan Moroney Talks Opry Debut: Jeannie Seely Gave a Pep Talk, Jamey Johnson Sent Flowers, Vince Gill Made Her Nervous
The title track to Megan Moroney's debut album "Lucky" will be available Friday.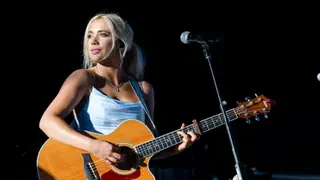 Eight months ago, no one had heard of Georgia native Megan Moroney. Since then, she released her debut EP "Pistol Shade of Roses," went viral with her song "Tennessee Orange," which is charging toward Top 20 on country radio, signed a record deal with Sony, made her Grand Ole Opry debut and revealed her first album "Lucky" will be available May 5.
"My goal is to wake up and write good songs, and that's it," Moroney said. "Because if I can keep doing that and work hard, good things will come, and we'll see what happens."
Moroney has spent the last couple of months finishing work on her debut album, which Sugarland's Kristian Bush is producing. Aside from that, she said she didn't set any goals – not even her Grand Ole Opry debut, which took her breath away.
"I've never been more nervous in my life," Moroney said, explaining she arrived at the Opry house at 2 p.m. – more than five hours before her performance – to do hair and makeup and to soundcheck. Several people, including Jamey Johnson, sent her flowers, and she quipped that her dressing room smelled like a funeral home.
She started crying when she stepped into the Opry's famed circle for soundcheck.
"It was definitely as magical as everyone says it is," Moroney said. "I'm not usually a big crier. Then things happen. I'm like, 'Why am I crying? But that was cool."
Moroney's family came from Georgia to Nashville, Tennessee, for her debut. In 2014, the first time the singer visited the Opry, the Moroney family made the trip together. They saw Carrie Underwood, Kacey Musgraves and Emmylou Harris that night, and Moroney didn't dream she would ever be on the same stage.
"I didn't dream of being on the Opry stage because I thought I was going to grow up and be an accountant," she said. "I was up in the rafters, so maybe I dreamed of having a closer seat to the stage. I didn't know that songwriting could be a job. Where I'm from, Douglasville, Georgia, you don't do that."
After becoming emotional during soundcheck, Moroney said she knew she couldn't give her family a shoutout from the stage during her performance like she had planned. She feared she would cry to the point of being unable to sing, so she decided to keep her comments at the microphone brief while in the spotlight. Instead, her family teared up in the audience.
"My aunts and uncles were all just crying the entire time," she said. "Dad said he looked over at my mom like in the last chorus of 'Tennessee Orange' and was like, 'Can you believe what is happening right now?' They're not used to any of this, either."
Vince Gill came to meet her just before she walked on stage, which Moroney said made her even more nervous. When she noticed her name was beside his on the night's commemorative poster, it was another pinch-me moment. Gill told her he made his Grand Ole Opry debut 35 years ago and still remembered it.
Jeannie Seely met Moroney in her dressing room and gave her a 15-minute pep talk after she sang.
Moroney called her Opry debut "very surreal" and said she is "still trying to process it."
Following the show, she and her friends and family celebrated her Opry debut at The Nashville Palace.
"We didn't want to go to Broadway or anything because I thought that would be too much," she explained. "I wanted to show them everybody line dancing and stuff. It was fun."
Moroney is looking forward to playing the Grand Ole Opry again, but she hopes it gets easier.
"Hopefully, I'll be less nervous because it was really hard to like process that shit," she said.
Megan Moroney's LUCKY Track List:
"Girl In The Mirror" – OUT 4/14
"Sad Songs For Sad People"
Produced by Kristian Bush