Country Singer Jake Flint Unexpectedly Died On His Wedding Night
Red dirt singer Jake Flint married his fiancee, Brenda, on Saturday.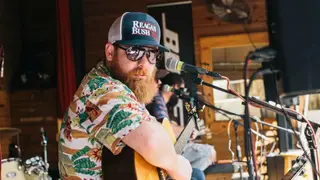 Red dirt country singer Jake Flint unexpectedly died hours after his wedding on Saturday.
His longtime publicist Clif Doyle shared the news on social media, which his manager Brenda Cline confirmed.
"With a broken heart and in deep grief, I must announce that Jake Flint has tragically passed away," she wrote. "I've tried several times today to make a post, but you can't comment on what you can't process," added Cline, who didn't reveal a cause of death for the Red Dirt performer and songwriter.
Flint was 37 years old. While the cause of death has not been revealed, the Oklahoman reported that Flint died in his sleep.
Flint's widow, Brenda Flint, posted a video on Monday that appears to be from their wedding that shows the couple flirting with each other and having fun. She captioned the footage, "I don't understand."
On Tuesday, Brenda Flint wrote that the couple should be going through wedding photos, but instead, she's picking out clothes to bury her husband in.
"People aren't meant to feel this much pain," she wrote. "My heart is gone, and I just really need him to come back. I can't take much more. I need him here."
The Oklahoman reported that Flint grew up in Holdenville, Oklahoma, and was one of two children. He started playing music when his father was diagnosed with ALS. Since his dad couldn't participate in sports with him, his father hired people to teach the budding musician to play guitar.
He started playing music after his father, an avid music lover, was diagnosed with ALS (Amyotrophic lateral sclerosis). Since he couldn't participate in sports with his son, Flint's father commissioned a couple of friends to teach the future Red Dirt up-and-comer to play guitar and take him to regional bluegrass festivals.
Great Divide frontman, producer, and Oklahoma Music Hall of Famer Mike McClure worked with Flint on his first album, 2016's "I'm Not Okay."
"Man, if you needed something, he was there. ... He was just a straight-up good dude and not only worked on his own music but tried to help pave the way for some other artists that hadn't really recorded yet," McClure said of Flint.
Flint's songs include "Cowtown" and "Fireline."