CMT Premiere: Carter Faith Hopes To Empower with "Man"
Carter Faith: "I got an idea for the vibe of the video while I was sitting in a Waffle House, and I saw an all-female biker gang roll in and sit down to eat."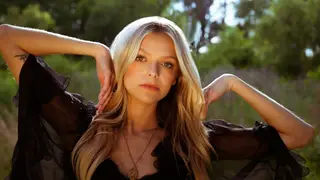 North Carolina native and 2023 CMT Next Women of Country member Carter Faith hopes the new music video for her song "Man" projects the same unapologetically empowering energy as the song.
Written by Faith, Tofer Brown and Lori McKenna, lyrics include: I've paid the price for your cheatin' lies| You begged me, "Baby, please"| You made leaving come so naturally| Loving you made a man out of me
Brown produced the song, and Frank Paris produced the music video, while Alexa King Stone and Stephen Kinigopoulos directed the clip that centers around a biker bar called Choppers. Faith said the video shoot started at 8 a.m. and that she enjoyed hanging out with Country, who she said runs the place.
"We filmed some of the scenes in a neighborhood, and all of the kids from the neighborhood came out and were yelling as we drove the motorcycles up and down the street over and over," she said. "My friends on the crew were organizing bike and scooter races for them on their street shortly after."
She hopes her video for "Man" gives those who watch it strength and confidence.
"I got an idea for the vibe of the video while I was sitting in a Waffle House, and I saw an all-female biker gang roll in and sit down to eat," she said. "I remember thinking that that was the most badass thing I had ever seen, and I hope my song and the video gives fans that same badass feeling."
Faith said watching the video for the first time was "so fun."
"I had so many loved ones and friends work together on this video, and seeing it all come together was very special," she said. "And, of course, I was obsessed with all of the looks and shots; it was our vision come to life."