CMT Premiere: Catie Offerman Doesn't 'Kill A Man' In Her New Music Video - She Makes Him Feel Like She Did
Catie Offerman wrote her new song "I Just Killed A Man" with Ryan Beaver, Joe Clemmons, Jessie Jo Dillon and Benjy Davis.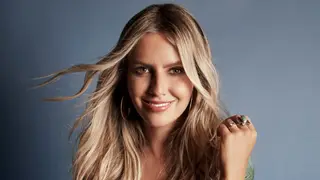 There was one rule when Catie Offerman started thinking about shooting her new video for her heartsick breakup song "I Just Killed A Man" – her husband, Kolby, couldn't play the lead.
Her manager thought it was bad luck. So she got someone else – a former band member – to star in the music video. It wasn't hard work; she pointed out. He just had to lay face down on the bed and pretend to be dead.
"Aside from the shots of us arguing in the driveway, he's laying down," Offerman said. "He doesn't turn over to the last little bit, and you're like, 'Is this guy dead?'"
Offerman shrugs into her trench coat, grabs her black gloves, and climbs into her car, leaving viewers wondering if she just committed murder.
"It's like, 'No, she just broke his heart,'" Offerman said.
Offerman wrote "I Just Killed A Man" with Ryan Beaver, Joe Clemmons, Jessie Jo Dillon and Benjy Davis. Taillight - Production Co. shot the video and Dann Huff produced the song.
Despite the song's dark subject matter, Offerman said they had a great time shooting the music video, which is her first.
"Everybody who was part of the video was a friend or became a friend," she said. "And so we just had a great time."
The hardest part for Offerman came when she had to pretend to fight with the male lead because she said she's "naturally a smiley person."
"That was definitely not my strong point," she said. "It took a few times because I kept laughing, but that was definitely a funny moment."
During the fight scene, she had to figure out something to yell at the man about in the driveway to make it more real. Viewers don't hear what she's saying, but Offerman wanted to do everything she could to make the scene authentic. Her topic of choice – flight etiquette. This particular player accompanied Offerman to her radio tour dates and would never pre-check or sign up for his frequent flyer miles.
"I was just out there screaming in the driveway about TSA and Southwest Airlines," she said. "But we just had a great time. I think we got a lot of really cool behind-the-scenes footage to share with people that is dark but funny. There's just so many plays on this song that create mystery and also make light."
"I Just Killed A Man" isn't about murder, Offerman explained; it's another way to sing about heartbreak. She broke up with her partner in the song, which deeply hurt him. She hopes the song and the video draw people in and keep them coming back for more.
"I just hope it's something they watch, and they're like, 'Man, I wanna watch that again," she said. "I think the song in itself, aside from the video, I think if people are paying attention or they're not, I think there's something about the song, the melody that just keeps bringing you back in."
She chose the song for her first radio single because she hoped it would make people pay attention.
"There's a lot of awesome people out there," Offerman said. "I have to create my own story and kind of etch out my own path. I feel like this song helps me set the stage for that."