Blake Shelton Opens Up About Leaving "The Voice" And The Keepsake They Owe Him
Blake Shelton will open an Ole Red bar in Las Vegas in 2023.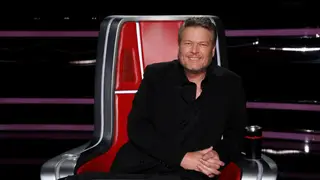 Blake Shelton has spent over a decade working on NBC's "The Voice," making him the only coach to appear in all 22 seasons. The singer-songwriter with nine champion titles previously announced his exit from the hit competition show after Season 23. 
The hitmaker recently told PEOPLE that he wouldn't leave the iconic set without one sentimental keepsake – his big red chair. 
"I don't know if they're gonna offer that or not. I feel like they owe me a damn chair though," Shelton shared with the publication. "I mean, who else can sit in my chair? It's like the three bears – I don't want anybody else sitting in my chair. I'm gonna try to get that away from them. Maybe I'll have to buy it or something," he added. 
The "God's Country" singer said he's ready to negotiate and fight for his most prized possession. 
"I'm sure they're gonna say, 'Well, the only thing you took was a lot of our money. So, you should be happy with that," he jokingly noted. 
He continued to point out that the enormous piece of furniture won't match perfectly with his current home décor that he shares with popstar wife and judge, Gwen Stefani. Shelton doesn't care that the memento won't look aesthetically pleasing in their luxury estate. 
"Well, that doesn't matter," said Shelton. "Because it built the home. So, it deserves a spot." 
The vocalist joined the first season in 2011, where he participated in a star-studded panel of judges comprised of Adam Levine, Christina Aguilera, and CeeLo Green. Shelton and Stefani initially met while taping season 7 in 2014. At the time, the two were married to their previous spouses – Gavin Rossdale and country sensation Miranda Lambert. 
In 2015 the lovebirds confirmed their relationship status. However, it wasn't until 2020 that Shelton popped the question. The singers tied the knot in 2021 at Shelton's private Tishomingo ranch. Shelton said that saying goodbye to the show that changed the trajectory of his life was not an easy decision. 
"I've been wrestling with this for a while, and I've decided that it's time for me to step away from 'The Voice' after Season 23," the Oklahoma native declared in a statement. "This show has changed my life in every way for the better, and it will always feel like home to me. It's been a hell of a ride over these 12 years of chair turns, and I want to thank everyone at 'The Voice' from NBC, every producer, the writers, musicians, crew, and catering people; you are the best." 
The platinum-selling artist mentioned that the competition show had brought his music career to new heights. 
"When I started on 'The Voice,' that was 10 years into my career as a country artist. I never really made it to the A-level of country artists until I became the coach," revealed Shelton. "The show did a hell of a lot more for me than I brought to the table at the time. I've far exceeded anything I thought I could ever accomplish in the entertainment world." 
Shelton's last rodeo on Season 23 will air in 2023 and will include a new roundup of judges. Kelly Clarkson will return to the spotlight after taking a short hiatus, as Niall Horan and Chance The Rapper will appear for the first time. While wrapping up his time on "The Voice," Shelton has channeled his energy into other business ventures. 
As Shelton embarks on his Back To The Honky Tonk Tour in mid-February, his new celebrity drinking-game show "Barmageddon" with Carson Daly will continue to air on USA Network. Meanwhile, he also is slated to open an Ole Red location in Las Vegas. 
"Go big or go home!!!!! Vegas is in need of some damn good country music, and we're going to bring it to them @olered!!!" Shelton wrote on Instagram. 
According to PEOPLE, Shelton's bar and restaurant will open their doors in the "fourth quarter of 2023." The sin city hotspot will mark Shelton's sixth Ole Red location.