Pics: Jelly Roll Sells Out Nashville's Bridgestone Arena with Chris Young, Sam Hunt, Struggle Jennings and more
Jelly Roll headlined Bridgestone Arena for the first time Friday in an emotional night of tough and tender lyrics with assists from his famous friends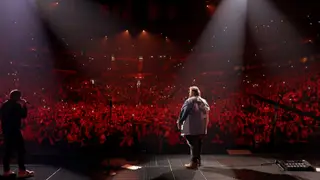 Genre-jumping Nashville native Jelly Roll became the picture of hometown redemption Friday night at Bridgestone Arena in Nashville. The Antioch, Tennessee, native started bouncing in and out of the penal system due to various drug charges when he was 14 years old. More than two decades later, he sold out Music City's largest indoor venue while his first country radio hit, "Son of a Sinner," is still climbing the charts. However, his music videos for songs that pair his personal, often vulnerable lyrics with old-school rap, classic rock and country soul have garnered nearly 2 billion views on YouTube.
Friday night Jelly Roll played what he called the biggest show of his career. And, he invited his famous friends to help him make it a night the approximately 15,000 fans in attendance wouldn't forget.
Chris Young, Sam Hunt, Riley Green, Shinedown, Ernest, Struggle Jennings, Tech N9ne, Krizz Kaliko and more came out to ensure that Jelly Roll and his fans had one of the best concert experiences of their lives.
Young was up first for "Famous Friends," his duet with Kane Brown. Jelly Roll took Brown's part but not before the men bear-hugged on stage. When Jelly Roll riled the crowd for Young to share the spotlight, Young wasn't having it.
"Hell no," he said. "This ain't my show. Let's hear it for Jelly Roll."
When Jennings came out, Jelly Roll introduced him as his best friend for 20 years.
"Tonight we are celebrating the biggest success story in Nashville," Jennings said as Jelly Roll teared up one of many times throughout the night. "You better watch out. Don't cry, or I'll cry."
Later in the show, Jelly Roll told the audience that the only thing more special than sharing the night with them was sharing it with his family. His wife, Bunnie DeFord, came on stage and told fans that her husband spent his birthday rehearsing for the Bridgestone concert and wasn't able to celebrate so they should sing him the birthday song.
"Scream that shit," she said.
Jelly Roll dueted with Hunt on "Body Like a Backroad" and "Grandpas Never Die" with Green. He said he used to do dabs with Ernest when he was a senior in high school before they sang Ernest's "Flower Shops." Later in the show, Jelly Roll gave a passionate speech for the legalization of marijuana to get harder drugs off the streets.
Jelly Roll's concert was laced with pyrotechnics, so powerful the audience could feel the heat from the flames.
He invited his daughter Bailee Ann, 14, on stage to sing a song she wrote – "Tears Could Talk" -- as her mother struggled with addiction.
"My daughter Bailee Ann changed my life," he said, introducing her. "Thinking about the song "She," her mother was one of the shes in my life who we are proud is sober now. But when her mother was going through her addiction and Bailee was a little younger, I said, 'Bailee, why don't you write your feelings out? This kid came to me with an entire … song."
Jelly Roll asked the audience if they could have a daddy-daughter moment and sing the song together.
Jelly Roll closed the show with his new song "Need a Favor," supported by the Fisk Jubilee singers positioned on a satellite stage in the audience. A curtain of sparks flowed from the ceiling, and a crucifix lit up at the back of the stage as he sang, "I only talk to God when I need a favor / And I only pray when I ain't got a prayer."