Conner Smith Releases Ultimate Game Day Anthem "Orange And White" In Time For Football Season
Conner Smith gives a friendly nod to the Tennessee Volunteers and Georgia Dawgs in the tailgate-worthy track "Orange And White" – LISTEN!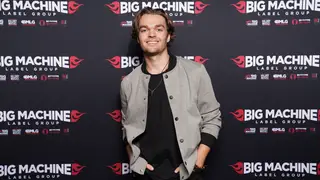 Conner Smith is more than ready to kick off football season. 
The fast-rising artist caught up (Aug. 29) with Big Machine Label Group to discuss the inspiration behind his recent single, "Orange and White." The unique love story told through the lens of football serves as the sequel to his viral track  "I Hate Alabama," which became Smith's full ride to stardom. 
"Orange and White" is Smith's modern take on "Romeo And Juliet," as he conveys a twisted tale about two lovers from opposing teams falling for each other. While displaying his captivating vocals, Smith expresses his overwhelming support for the Tennessee Volunteers and unexpected love for a girl who cheers on the University of Georgia Dawgs. 
"Now I got a Georgia girl singing Rocky Top |  Lining up another Tennessee whiskey shot | Stealing my heart and my Bill Dance hat | Now I'm telling her Athens ain't getting her back | She pulled me closе and I spun her around | I laughed and said girl look at you now | You've been red and black for your whole life | Now you're falling for a boy in orange and white," Smith sings the tailgate-worthy track. 
The colors orange and white have run through Smith's veins since he was a child. The breakout star told BMLG that college football played a vital role in his upbringing, as he has core memories of attending games as a young fan. 
"We grew up where my dad had season tickets every year, and so me, him and my brother and my mom, when she wanted to, would all go up and sit in the same seat in every game that we could get to," he explained. "We would always park at the same spot and then ride the train over to the stadium, and then we would get off and ride the train back."
Win or lose, the Smith family would celebrate their passion for the pastime by grabbing dinner together. 
"I just remember those moments of being on that train. And then we'd go to this Ye Old Steakhouse after the game. So, that was kind of growin' up my Tennessee experience," he recalled. 
Although the 21-year-old is quickly climbing the ranks in country music, he often takes breaks from the limelight to experience college game day with his best buddies. 
"Now of course, my best friends go there. So, I get to go stay at their college house, and we'll get dressed up and go to the game, hit some tailgates before, and see all my friends." 
Smith teased "Orange And White" ahead of the release, and the sing-along chorus instantly received praise on social media. The tender track, infused with ear-pleasing guitar pulls and abrupt beat drops, raked in 81.9K views on TikTok alone. 
"Dude just crushed it!" said a follower. "Keep up the good work, man," said another. 
Smith has been delivering the stadium-ready single while touring coast to coast with hitmaker Thomas Rhett. Tickets to hear "Orange And White" live are available for purchase, here.