Pics: Jana Kramer Announces Birth Of Her Son
Jana Kramer and Allan Russell shared their engagement news in May and her pregnancy in June.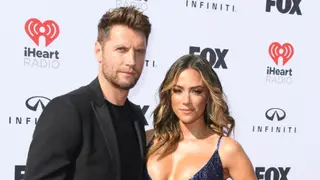 Jana Kramer is a new mom for the third time.
The country singer, actress and author revealed Tuesday that she and her fiancé Allan Russell welcomed their baby boy on Monday. The couple named their son Roman James Russell, and he is their first child together. Kramer and Russell have children from previous relationships.
Baby Roman weighed 6 lbs., 1 oz. when he was born.
"Allan and I are both overjoyed and truly grateful to announce the birth of our son, Roman James Russell," the couple told People. "We feel blessed to have been given the chance to create something so special together."
They explained they chose the name Roman because it is "just a strong name we both love" and that James is the middle name of both of their grandfathers.
The baby was due in early December, but last week, Kramer said she had to move her c-section date to November because of a growing fibroid in her uterus. The baby was originally due on Kramer's 40th birthday, and she said on her podcast "Whine Down With Jana Kramer" that moving his arrival date to mid-November changed his star sign, which made her nervous.
"I know nothing about a Scorpio man," she quipped. "Nothing. I know, is it bad? When (my doctor said to move the date), I was excited that we got to move it up a little, but also, I was like, that's not a Sagittarius. I know Sags, I am one."
Kramer did some research and discovered that, based on what she read, having a Scorpio son didn't scare her after all.
"They say a Scorpio man is like, he's got two sides," she said. "He's a shapeshifter, and I was like, 'fabulous.' Very passionate, loyal and stubborn. But has a dark side."
Kramer shared news of her engagement to Russell in May and her pregnancy in June.