WATCH: Zach Bryan Pulls His Father On Stage To Sing "Revival" During A Live Performance
Zach Bryan thanks his devoted fan base for allowing him to pursue music and filling his heart with love.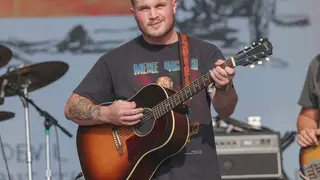 It looks like Zach Bryan received the musical gene from his father. 
The military veteran turned country sensation took to social media this week to retweet a video of him performing with his dad on stage. The fan-captured video was filmed at a recent show and featured the father-son duo delivering a rowdy rendition of "Revival." 
"Old man popped up last night," he wrote alongside the heartwarming video. "Thank you guys for letting me always express myself and become the man I think I might have been born to be. I have nothing but love in my heart nowadays," he added. 
The short clip is pure as his voice and displays their tight-knit relationship. As Bryan pulled at his acoustic guitar, his father, Dewayne Bryan, planted himself in front of the microphone to belt the sing-along-worthy lyrics. 
"We're having an all night revival | Someone call the women and someone steal the bibles | For the sake of my survival | Baptize me in a bottle of Beam and put Johnny on the vinyl," the two sing with confidence. "Well thee devil can scrap but the lord has won | And I'll talk to him on the rising sun | His son rose, and mine did too | I was coming down, but now I'm talking to you." 
Bryan was in the United States Navy when he first recorded himself singing "Heading South" on a phone outside his quarters overseas. The acoustic original displayed his soulful sound and signature grit. It wasn't long until country-folk fans noticed Bryan and his unmatched talents. Following the viral clip on YouTube and accidentally falling into the music business, the hitmaker was honorably discharged to pursue his craft full-time. 
The singer-songwriter was only 17-years-old when he first joined the armed forces, as he followed in his family's footsteps. His late mother, father, and grandfather all served in the Navy. 
Bryan's father remains proud of his superstar son, as he is seen losing himself within the upbeat track and grooving to the electrifying instrumentals. As fans praised the liveliness transcending through the screen, others pointed out their touching bond. 
"Hands down, the best concert I've ever been to. You could literally feel the energy," said a follower. "I think ole dad might have put y'all boys to shame last night 😂 This video makes my heart so full," added another.
The promising new artist is currently on his nationwide headlining tour promoting hits from his whopping 34-song record "American Heartbreak" and critically acclaimed EP "Summertime Blues." The record-breaking artist recently confirmed that new music is on the horizon, and a full-length album, including the unreleased track "Deep Satin," will arrive in February. 
Until eager listeners receive more from the  Oklahoma native, they can catch him live until early November. Tickets for the remaining dates are available for purchase, here.