HARDY Gives Health Update Following Bus Crash, Asks For Prayers
HARDY canceled two upcoming shows, says bus driver is "still not in the clear."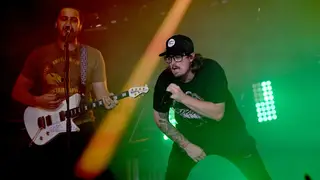 HARDY wants fans to know that he is OK following a bus accident over the weekend that he said left him and the three other men on board with significant injuries.
Last night, the singer/songwriter posted a video on social media showing he had a black eye. He said he had just finished visiting Tanner Gallagher, who suffered multiple broken bones in the crash. HARDY said Tanner was also OK, as was Noah Brown, his tour manager. However, his tour bus driver is not.
"We still want you guys to pray for our bus driver Ricky who is still not in the clear yet," HARDY says. "So, if you guys could pray for him, it would be greatly appreciated."
Later in the post, HARDY said his driver had just received "a good report" but explained he "still needs all the love and prayers he can get."
As for his upcoming shows, HARDY said it was in his "best interest" to cancel them. That includes his weekend show in Texas with Morgan Wallen and a concert at Flannagan's in Columbus, Ohio, on October 13. His friend and fellow singer/songwriter Ernest will fill in for him on those dates. HARDY said he'll return to Flannagan's on July 1, 2023.
"I'm very sorry," he said. "It's just what I need to do right now."
Ernest had to cancel his Saturday show in Huntsville, Alabama, to step up for his "brother" HARDY.
HARDY promised they would be fine "in time" and that they will "100 percent bounce back from this, and it's going to be bigger and better than it ever was before."
"Love you guys," he added. "See you guys out there."
HARDY revealed Sunday that he and three of his band and crew were involved in a bus accident Saturday night that left the men seriously injured. He said they were traveling home following a concert when the accident occurred and that while only four were on the bus, all of them were hurt.
"Please keep our road family in your prayers, and I promise to keep you updated in the days that follow," he said Sunday. "God bless our medics and our local and state officials for their quick response and incredible service."
HARDY has written 12 No. 1 hits since 2018, including his chart-topper "One Beer" featuring Lauren Alaina and Devin Dawson and the Dierks Bentley, Breland collaboration "Beers On Me."