The 22 Songs Walker Hayes Wove Into "90's Country"
And the Seven There Wasn't Room For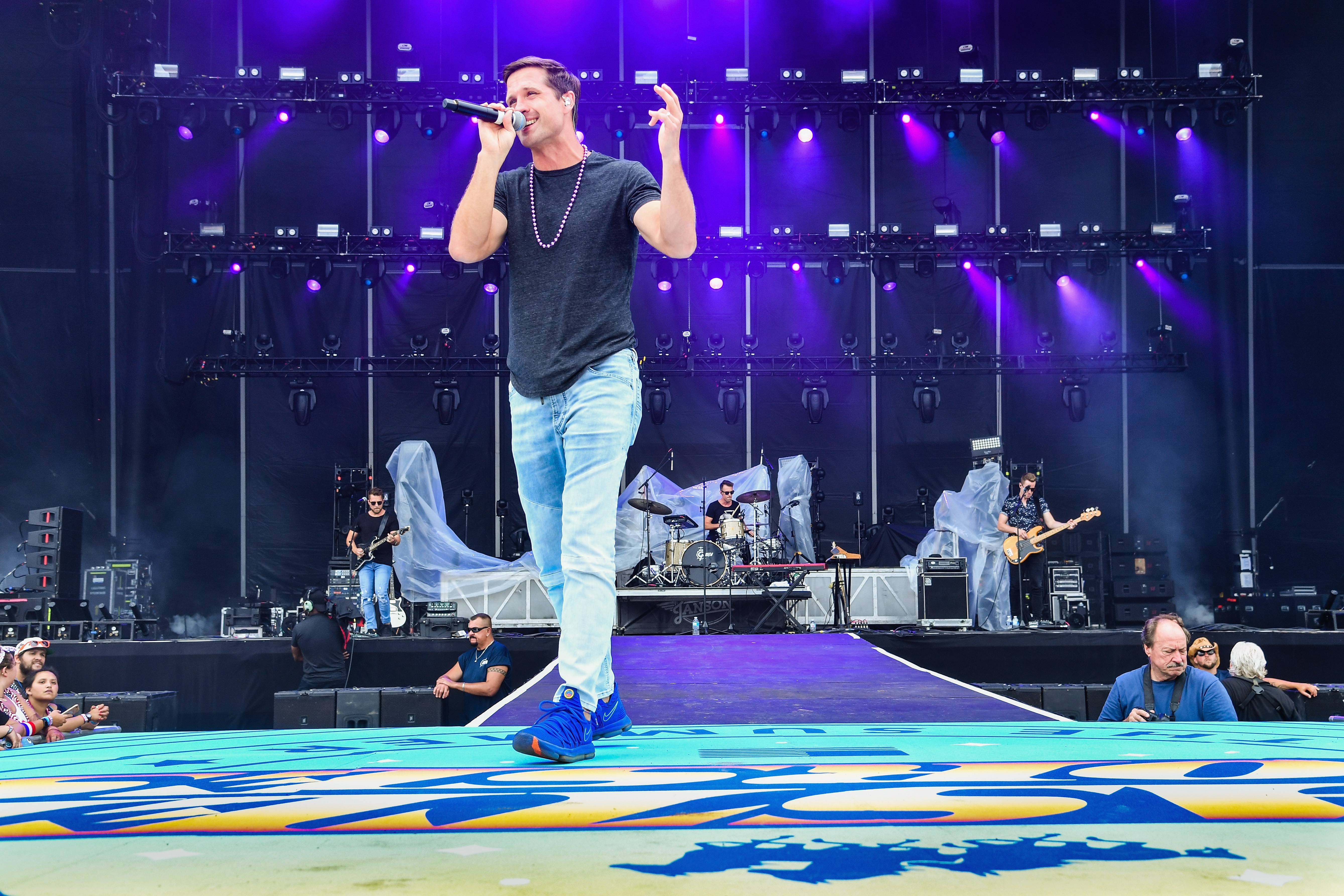 When anyone says anything about '90s country, my interest is instantly piqued; even more so when Walker Hayes is doing the talking. I know from previous interviews that his love of the music from that era equals mine. So now that his brand new single "90's Country" has been released, I had to ask Hayes about which songs made it in, and which ones ended up on the studio floor.
CMT: Last March, we talked about the kinds of songs that made you moved to Nashville. The tunes that you said were "the ones that make me remember exactly when I heard it for the first time and where I was." You cited these story songs as the ones that pulled you to Music City: Tim McGraw's "Don't Take the Girl," Joe Diffie's "Ships That Don't Come In," Garth Brooks' "That Summer," and Chesney's "There Goes My Life." Is this new song of yours kind of a list of song titles you love, or is there a story in there somewhere, too?
Hayes: I feel like when we are young especially, while we are experiencing so many "firsts" when songs move us, we recall exactly where we were when we heard them. Also, the experience of hearing a song for the first time has so much to do with the emotions it will evoke in us for the rest of our lives. So "90's Country" is my tribute to the musical time period that moved me the most. I listened to 90's country with my mother in the car driving to the beach, with my father on the Waffle House jukebox, and with my brother in his truck driving to baseball games. These songs are very nostalgic. Unfortunately, I couldn't fit all of my favorites in it. It was important to me to make sure that if a listener didn't recognize the references that there be a cool story inside the lyric as well.
You also told me that you loved the tunes that had an uppercut -- usually in the bridge -- that is the one powerful line in the song that makes it all make sense. Country music doesn't really do that anymore. Is that a trend you'd like to see make a comeback?
Love, love, love a twist. I think it's a trend that will occasionally come back -- however, attention spans (including mine) are short these days. "Check Yes Or No" is a song that I reference in "90's Country." George Strait had a very crafty lyric: it tells a story then comes back around. Never gets old. For that to work nowadays, as a writer, you really have to keep a listener's attention.
There have been a handful of songs from today's country singers name-checking older country songs. Jason Aldean's "1994," McGraw's "Nashville Without You," Lady Antebellum's "And the Radio Played," and now Dierks Bentley has even devoted an entire night of his Seven Peaks Music festival to 90's country artists. Why do you think so many of today's stars want to sing about yesterday's music?
It is the music that moved us all. I think we all love the music we listened to as kids the most. It's because for one, we were able to listen. We weren't busy being adults. And two, we were kissing girls for the first time, playing football, trying our first beers -- so much awesome stuff was going on while this music played. And three, 90's country still lives on the radio. My kids do know more of the references in "90's Country" than you would think, and that's because several of those songs have stood the test of time.
Is your song just one you wanted to release to have some fun, after having released the powerful "Craig?" Or is it some kind of message to people who may not realize how deep your country roots go?
Honestly, I wanted to take a break and release something lighter. "You Broke Up With Me" was fun, yet definitely addressed an inner emotion of mine. The whole "How Do You Like Me Now" attitude is how I felt when we released it against all odds. Then "Craig" was about as deep as I can go. And I'd been working on "90's Country" for a while -- we were back and forth about whether to release something else off of the album boom., or start fresh. We decided to start fresh with something no one had heard. We decided to finish this tune and go with it. Honestly, after losing (our baby daughter) Oakleigh this summer, I didn't want a heavy song to explain. I just wanted to keep it light, still honest, but on the easy listening side.
So, which songs do your new one mention or reference in some way?
"Strawberry Wine" - Deana Carter
"Cowboy Take Me Away" - Dixie Chicks
"I Like It, I Love It" - Tim McGraw
"Check Yes or No" - George Strait
"She Thinks My Tractor's Sexy" - Kenny Chesney
"Jukebox Junkie" - Ken Mellons
"Vidalia" - Sammy Kershaw
"Queen of My Double Wide Trailer" - Sammy Kershaw
"Shut Up and Kiss Me" - Mary Chapin Carpenter
"John Deere Green" - Joe Diffie
"I Cross My Heart" - George Strait
"Walkaway Joe" - Trisha Yearwood
"The Church on Cumberland Road" - Shenandoah
"Dust on the Bottle" - David Lee Murphy
"Sold (The Grundy County Auction)" - John Michael Montgomery
"She Don't Know She's Beautiful" - Sammy Kershaw
"Chattahoochee" - Alan Jackson
"Daddy's Money" -Ricochet
"Don't Be Stupid (You Know I Love You)" - Shania Twain
"Friends in Low Places" - Garth Brooks
And were there songs you wanted to include, but just couldn't fit in?
Honestly, I could go on for days but the song would have to be as long as "American Pie." Even longer, more like "Rapper's Delight." These are the ones I couldn't fit in:
"Don't Take the Girl" - Tim McGraw
"Here's a Quarter" - Travis Tritt
"God Blessed Texas" - Little Texas
"Heads Carolina, Tails California" - Jo Dee Messina
"My Maria" - Brooks & Dunn
"Should've Been a Cowboy" - Toby Keith
Hayes wrote "90's Country" with prolific hitmaker Shane McAnally and LYRX, and it will be released on Thursday (Aug. 30).