Brothers Osborne Says Not To Expect Rainbows And Babies On New Album: "It Seemed A Little On The Nose"
Brothers Osborne switched producers for the self-titled album. They wanted a new challenge and commercial music that didn't compromise their artistic integrity. They got it.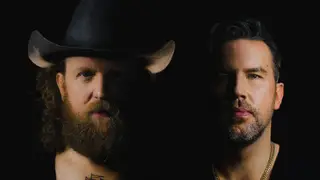 Daily life looks entirely different for Brothers Osborne since the beloved guitar-driven country rockers released "Skeletons" in 2020. TJ Osborne came out as gay and proudly brings his longtime boyfriend to music industry events. In March, John Osborne and his wife Lucie Silvas welcomed twins Maybelle and Arthur – the couple's first children. Creative inspiration hasn't been in short supply for the duo, who released their 11-song self-titled album on September 15.
Even so, during the interview, TJ's new Maine Coon cat was the most present topic of conversation as it demanded attention from the singer as he tried to talk about the new project.
"I'm getting distracted now," TJ said, explaining the four-month-old feline wanted to play. The kitten was a gift for TJ's boyfriend. The singer didn't want a cat, but now he's "obsessed." "He's growing fast and cute as hell."
Redirecting his attention back to the music, TJ said that at the beginning of the project, he and John weren't sure if they would lyrically lean into their life changes on the album. They teamed with new-to-them super-producer Mike Elizondo and let the music lead the way. Spoiler alert: No songs directly address TJ's sexuality or John's children. TJ said doing so would have been too "on the nose."
"It was the first time I was able to make an album without having to concentrate on filtering myself," TJ said. "I never really realized how much I would do that -- whether it was subject matter, the things that had to be very gender-specific or something. This time, it was just nice just to go in without any restraint. It felt like a little bit more freedom in so many ways."
Elizondo, a Californian known for working with artists including Dr. Dre, 50 Cent, Eminem, Carrie Underwood and Fiona Apple, brought a fresh perspective to the album. Brothers Osborne likes to be challenged and live outside their artistic comfort zone.
"The brothers have hit their stride with this new album," said their manager, John Peets. "Along with producer Mike Elizondo, they worked hard to present the best of what John and TJ do, with stunning results. "
For their self-titled project, the producer role that Jay Joyce had long held needed shaking up. The brothers thought they were getting "too comfortable" with Joyce and wanted to see their music through the lens of a different producer. John said they wanted to keep an open mind and release a collection that was more commercial sonically while still maintaining the core of the group, which is their songwriting, TJ's singing and John's playing.
"We felt like we were kindred spirits, just a bunch of nerdy musicians in a room writing a song," John said of the duo and Elizondo. They tried one song together and knew they had made the right choice after the first day. "We had so much fun recording, and it took it in the direction not only that we wanted it to go, or not only were we hoping it would go in but surpassing that."
John said they would have "changed horses in the middle of the stream if the music had veered from the group's heart during the recording process." The recording process was such a collaborative effort between Elizondo and the brothers they never felt they were trading their artistic identity for a shot on country radio.
"Having a commercial aspect to your music is a very slippery slope because if you put all your eggs in that basket it becomes more about the marketing than it becomes about the music," John said. "We never once felt, 'Okay, this feels like it's more about the numbers or the chart positions or all of those other facts and figures.' It still very much felt like us but with a different sheen."
Elizondo assembled a band of studio musicians for the project, including Paul McCartney's drummer Abe Laboriel Jr. Miranda Lambert is the only guest vocalist on the album, joining the brothers on "We Ain't Good At Breaking Up," which she co-wrote with them and Jesse Frasure. Brothers Osborne co-wrote every song on the album, including their current single "Nobody's Nobody," which they crafted with Elizondo and Kendell Marvel about inclusion and acceptance.
While "We Ain't Good At Breaking Up" isn't overtly about TJ's relationship with Abi Ventura – it was inspired by their on-and-off status while trying to navigate living so far apart. Lyrics include:
We're damn good together| We're birds of a feather| Never say never in love| A far cry from perfect| But one thing's for certain| We can't seem to get enough|No, we ain't good at breakin' up
"People would say, 'Are you all still together?' And I would say, 'Yeah, we're not good at breaking up,'" TJ said. "We were trying to be so practical and be like, 'You know what? We didn't live near each other, and let's just end this before we end up hating each other.' And then we just couldn't do it. We were just almost kind of comical at how not good we were at doing that."
TJ loves the dreaminess of the track and thinks Lambert's vocals give it a Fleetwood Mac feel. When listeners figure out it's her on the vocals, he loves seeing the moment of recognition.
"People go like, 'Oh yeah, oh my God, it's so obvious,'" he said.
When Brothers Osborne went into the studio with Elizondo to make their self-titled album, the goal was to zero in on a specific theme for the album that succinctly represented their artistic identity. What they got, TJ said, is the most comprehensive album they've ever made.
"I think you really hear that," he said. "There's really a projection of all of our influences. You can pinpoint with each song."
"Goodbye's Kickin' In" showcases the brothers' love of blues and soul. "Ain't Nobody Got Time For That" has a disco vibe, and "Rollercoaster" is the duo's first ballad.
"I think since we've stretched it so far in both directions, at least we'll see what the listeners think," TJ said. "I'm like, 'Wow, I really feel like I hear us more than ever. With there being so many different types of furniture changes around us, and the only thing that stays the same is John and I."
Brothers Osborne wrote 25 songs over three years for their self-titled album and then joined Elizondo the week before they started recording to write five more to, John said, "fill some gaps." They tracked 16 songs with basic instrumentation, completed 14 songs, and mixed 11 of them – which became the album.
"There's so many philosophies these days about what an album is," John said. "I certainly do applaud people that are doing 25 to 30 songs on an album. For us, everything is a statement, and we wanted to make sure that we were saying everything that we need to say, but still in somewhat of a succinct manner."
LGBT country artist Fancy Hagood, will open Brothers Osborne's upcoming tour. A long time friend of the family, Hagood explained that the duo collects people like they collect songs -- they pull them in and make them feel special. 
"I just feel so lucky to be in their orbit because they're just the best kind of people," he said. "They are the neighbor you want. What they bring into their music is just this family essence. It's a really communal, inclusive environment that they foster and create, and it's really special. I think that's what makes them stand out."