Tenille Townes Went Old School When Asking Bryan Adams to Sing on "The Thing That Wrecks You"
Tenille Townes didn't even know if Bryan Adams had a CD player when she dropped the compact disc off at FedEx.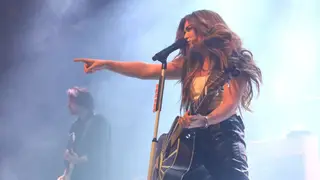 Tenille Townes wanted fellow Canadian Bryan Adams to sing on her song "The Thing That Wrecks You," but she only had the mailing address to his studio. In a time when most duets start with a text message between singers, Townes didn't have that option. She burned a copy of the song onto a CD, penned a handwritten letter to Adams, drove to the Federal Express in the Green Hills area of Nashville and dropped it in the mail.
"I was laughing at myself at the counter going, 'I can't believe I'm doing this, but whatever, let's just take the shot and see,'" Townes said. "Two days later, he got the FedEx and sent me an email that he listened to the song, and he'd absolutely love to sing on it. So, it's been a pretty wild ride since that whole adventure."
"The Thing That Wrecks You" is out now. Townes wrote the song with Kate York and Daniel Tashian and thought of recording it with Adams when she was recording a song for a Hallmark movie in Vancouver last summer. She ran into Adams in the studio, and the pair chatted for a few minutes. When Townes dropped the CD in the mail, she didn't even know if Adams had a CD player. She asked him later, and he said he had someone in the studio take the song off the CD and send it to him.
"The fact that he went through the effort of going, 'Let me hear this song that this person sent me is pretty incredible," she said.
"The Thing That Wrecks You" is nearly four minutes long, and Townes produced the song with her band's guitarist, Jaxon Hargrove. She recorded it with her touring band, and Adams added his own guitar and vocals.
Lyrics include: We're running down a darker road| Where even angels fear to go| And stars fall like a lonely tear| When they're crashing through the atmosphere| It looked just like a dream come true| But love can lead you straight into| The thing that wrecks you
The creatives worked on the song in separate studios, in different time zones and on separate continents. They went back and forth on ideas for guitar parts, lyric changes and let the song go in a new direction as a duet.
"And it was amazing to get to learn from him through that process," Townes said. "We changed a bunch of things about it, got to a place of feeling really great, and it had all been done through distance. He has such a heart for just the craft of music and wanting it to be the absolute best it can be. And his attention to detail is something that I was very moved by as a songwriter."
While Townes and Adams recorded the song in separate studios, they came together in Las Vegas to film the music video, of which she gave Adams complete control. She said her fellow Canadian has an incredible eye for photography and videography and that it was "really cool" to see him in that element.
"He was very hands-on through the whole process of making the video," she said. "It was just a simple concept of us just running towards each other, but it's this metaphor of going towards this thing that you know isn't good for you and just kind of like being destroyed emotionally through the process on the way there."