CMT Premiere: Lukas Nelson + POTR and Lainey Wilson Team for "More Than Friends"
Lukas Nelson says Lainey Wilson is "the bee's knees."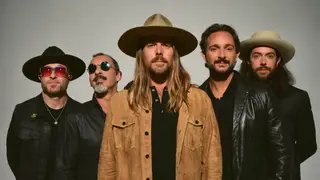 Lukas Nelson thinks he might have just slid in under the wire when he convinced Lainey Wilson to collaborate with him. Nelson called Wilson while she was sitting in her dressing room at the CMA Awards in 2022 and asked her if she would sing on "More Than Friends."
"Luckily, she agreed to do it because she won two awards that night and really blew up," Nelson said. "(She) might have been way too busy after that!!"
Nelson wrote and produced "More Than Friends," and Nicki Fletcher and Mason Allen of Tacklebox Films produced and directed the music video.
He said the video really just tells the story of good friends out having fun and deciding to "just get this thing over" so they can figure it all out later.
"Let's have some fun," he said. "It's not the best advice necessarily, but not every song is."
Nelson said the song and video were a lot of fun to make, and he hopes fans have as much fun listening to it and watching the video as he and Wilson did making it. 
"Oh man, the best memory was laughing up there with Lainey goofin' off while we did the scene where she bonked me sideways 😂," he said. "Seeing the video come together made me so proud. The directors, Nicki and Mason, did a great job. All of the cast and crew were fabulous, and getting to do a song with Lainey is the bee's knees."
Nelson, the son of Willie Nelson, made his music debut more than a decade ago. He's made seven studio albums to date, including his most recent 2021's "A Few Stars Apart." The collection was produced by Dave Cobb and spent seven weeks at No. 1 on the Americana Albums chart. In addition, Nelson co-produced the music for 2018's "A Star Is Born," appeared in the film and won a BAFTA Award for Best Original Music and a GRAMMY Award for Best Compilation Soundtrack for Visual Media.