Garth Brooks Extends Las Vegas Residency into 2024
Garth Brooks: "My whole life, I have heard the saying, 'Rome wasn't built in a day.' Well, thanks to God and the people, ours was."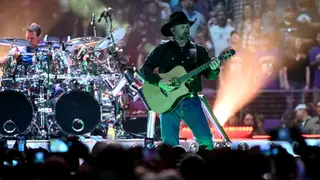 What happens in Vegas stays in Vegas, and Garth Brooks is staying in Las Vegas – at least through 2024.
In partnership with Caesars Entertainment and Live Nation, Brooks revealed that his Garth Brooks/Plus ONE Vegas residency at The Colosseum at Caesars Palace will extend through 2024. Brooks decided after the first year of his Las Vegas residency sold out in one day.
Brooks' new show dates will be unveiled in May of 2023 around the opening of the residency.
"My whole life, I have heard the saying, 'Rome wasn't built in a day.' Well, thanks to God and the people, ours was. Truly grateful and unapologetically excited," Brooks said in a statement.
Fans who signed up for the Verified Fan Presale and couldn't get tickets for the 2023 dates will be given priority access to buy tickets to the 2024 dates.  
"What an unbelievable day this was for us," Brooks said on his "Inside Studio G" after learning every show had sold out. "Every show in '23 is pretty much…done. A whole year in one day. That's nice!"
Tickets to 27 shows were up for grabs. Fans had to register for the on-sale through Ticketmaster, and as many as 60,000 couldn't get tickets.
"They had more people than they could take care of, which was very sweet for us," he said.
He promises his residency will be worth the wait – and that every show will be unique. He plans to vary band members, incorporate occasional special guests and swap up instrumentation, background singers, or his set list to make each night a unique and memorable experience for the audience in the intimate space.
"Vegas is the place where anything goes, and The Colosseum at Caesars is the heart of Vegas," he said in a statement. "The perfect combination to present a show that will not only push the envelope, it's gonna shred it."
While visiting the website, fans can preorder the Garth Brooks LIVE LIVE Boxed Set, which includes a commemorative book and five discs with more than 50 of Brooks' most celebrated performances. Preorders for the new boxed set will start before the holidays.