Five at Five: Kelly Clarkson Is the Real Deal + Keith Urban Is a Foy Vance Superfan
Five Things You Really Need to Know in Country Music for April 8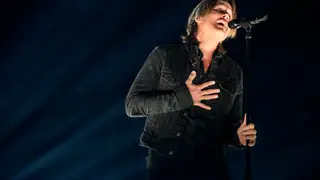 Give us a minute, and we'll give you five things you might want to know in country music. It's your new favorite fix for all the latest news headlines in one place. Here's what you need to know for Monday (April 8):
Will the Real Kelly Clarkson Please Sit Down?
It was the best of times, but oh my God this was the worst of times. Someone from the ACM Award's crowd management department thought Kelly Clarkson was just some random seat filler and he asked her to move. Because she is indeed the actual Kelly Clarkson, she was super chill about the whole kerfuffle and posted the perfect gif to go with her hashtag, #CantWinEmAll
All About the Man Behind Keith Urban's "Burden"
"Good God, man," Urban wrote on Twitter after his "Burden" performance. "'Burden' spoke straight into my soul first listen..and I hope I did you justice, brother. Thank you too, @edsheeran, for guiding me into the album, and the wonderful world of Foy." This was certainly not Vance's first rodeo, though. The Irish singer-songwriter co-wrote "Pushin' Time" with Miranda Lambert, and he asked Kacey Musgraves to join him on his song "Moonshine." Right after Urban posted his praise, Vance replied with, "Well this is a lovely surprise."
Old Dominion Headed Back Across the Pond
Here's hoping that Stockholm, Berlin, Amsterdam, London, Belfast, Birmingham and more are ready to make it sweet. Old Dominion announced that after their very, very packed summer tour of all the fairs and fests in America, they'd be brining their show to Europe again. "We had such a blast last year in Europe that we decided to come back for more. So excited to take the #makeitsweettour across the pond in October with @JordanCWDavis." They'll be doing their thing over there from October 4-16. Ticket info lives here.
Hailey Whitters and Brothers Osborne Make Us All Look Good
First, Brothers Osborne used a red-carpet interview to brag about their pal Hailey Whitters. "There are tons of girls just waiting for the moment, waiting in line, writing great songs, showing up every day in the writing room. Sometimes doing two or three or four writes a day. They've been in Nashville for over ten years. There's a girl in Nashville right now called Hailey Whitters who is incredible," John Osborne said. "And you check her music out, and you're like, 'Come on. We gotta get this girl propped up.' And then this dude (Lil Nas X) decides to put out a song with quasi country lyrics? Let's turn the focus away from that." Once she had time to process what had happened, Whitters was shook. "The fact that @brothersosborne use their platform to talk about my music makes my heart swell... they are the living, breathing example of support and building each other up in an industry designed to tear you down."
Maren Morris Reflects on What's So Cool About Country
It's not the ACM Awards. Nor is it any other accolades that happen on a stage. The best thing about country music is everything else, per Morris. "Feeling grateful to be a part of such a supportive country music community. When you strip away the awards, the numbers, the pyro budgets, you're left with the most laid back, down to earth, hilarious artists & songwriters that genuinely root for each other," she posted on Twitter on the day after the Vegas show. So while the controversy over what country is and what it ain't still goes on all around us, Morris has just handed us the real answer.