Ian Munsick Put On Vocal Rest, Cancels/Reschedules Shows
Ian Munsick: "Thank you for understanding, and we'll see you soon!"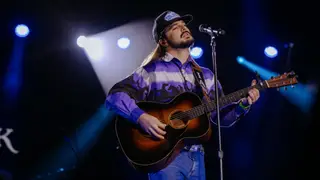 Cowboy singer Ian Munsick is taking some doctor-ordered time off.
Munsick has been put on vocal rest by his doctor, forcing him to reschedule one of his shows this week. 
"My doctor has advised me to go on vocal rest, so I have made the difficult decision to reschedule this week's show in Atlanta, and unfortunately, have to back out of playing Clewiston Sugar Festival," Munsick said on Instagram. "Thank you for understanding, and we'll see you soon! On the bright side, we've added The Munsick Boys, Ryan Charles and 49 Winchester to the Long Live Cowgirls Tour this spring along with Ashland Craft and Ned LeDoux."
Munsick sang for country radio programmers on Monday during his record label's luncheon at the annual Country Radio Seminar in Nashville. 
His Long Live Cowgirls Tour stop in Atlanta, Georgia, on Thursday, March 16, has been rescheduled for Sunday, August 13, and his Saturday appearance at the Clewiston Sugar Festival has been canceled. 
However, Munsick's fans still have plenty of other opportunities to see the singer. His tour was recently extended and includes upcoming shows in Nebraska, California and Colorado. 
Munsick will release his sophomore album "White Buffalo" on Friday, April 7, and he will headline an already-sold-out concert at Ryman Auditorium on May 16. 
"If there's one building that embodies the spirit of country music, it's the Ryman," Munsick said. "Getting to play my new album 'White Buffalo' front to back for the very first time on the most legendary stage in country music - AND to get to do that in front of a sold-out crowd - will be an unforgettable experience."
Long Live Cowgirls 2023 Tour + More:
April 14 // Clive, IA // Horizon Events Center #
April 15 // Ralston, NE // Liberty First Credit Union Arena #
April 25 // Tucson, AZ // Rialto Theatre $+
April 26 // Tempe, AZ // Marquee Theatre $
April 28 // Indio, CA // Stagecoach Festival ^
May 4 // Billings, MT // First Interstate Arena at MetraPark #@
May 6 // Denver, CO // Mission Ballroom #
May 16 // Nashville, TN // Ryman Auditorium #
Aug. 13 // Atlanta, GA // Buckhead Theatre *rescheduled from March 16