Ronnie Milsap Reveals Final Nashville Concert - And It's a Show-Stopper
Kelly Clarkson, Little Big Town, Parker McCollum, Justin Moore, Scotty McCreery and more will honor Ronnie Milsap in Nashville in October.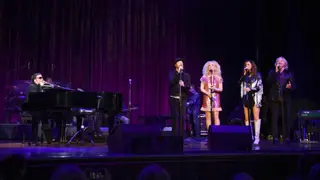 Country Music Hall of Famer Ronnie Milsap is ready for a break – and his send-off is one for the record books.
On Tuesday, the 80-year-old blind piano player revealed a star-studded lineup would join him for his final Nashville performance on Oct. 3 at Bridgestone Arena.
Artists scheduled to pay tribute to Milsap include Kelly Clarkson, Little Big Town, Parker McCollum, Justin Moore, Scotty McCreery, Tracy Lawrence, Randy Houser, Sara Evans, Lorrie Morgan, Neal McCoy, BRELAND, Phil Vassar, Terri Clark, The Band of Heathens, Charlie McCoy and more.
The event will honor Milsap's more than five-decade career, including his lauded hits such as "Smoky Mountain Rain," "Stranger In My House" and "No Gettin' Over Me."
"I'm so excited about my last show in Nashville at Bridgestone Arena and the amazing lineup of artists," Milsap said in a statement. "This night will be so special for me and all the fans. I love Nashville and the amazing career my fans have given me. 'I wouldn't have missed it for the world.'"
Throughout his career, Milsap has logged 40 No. 1 songs and charted radio singles in five decades. He won six Grammys, was named CMA Entertainer of the Year and collected four album of the year awards.
"We are thrilled to host the Ronnie Milsap Tribute concert," said Bridgestone Arena Chief Venues Officer David Kells. "With over 50 years of music and 40 #1 hits, this celebration is going to be something special. Thank you to the Outback Presents team for curating such an amazing event."
 Tickets go on sale 10 a.m. CT Friday, June 9, through ticketmaster.com.