Reba McEntire Talks Parenthood And How She Raised Her Son: "Don't Be Spoiled"
Reba McEntire revealed that she never wanted her son to receive star treatment.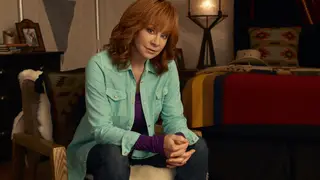 In 1990, the "I'm A Survivor" singer took on one of the most challenging jobs – being a mother. McEntire welcomed home her son Shelby with ex-husband Narvel Blackstock and did not take the new role lightly. 
When raising her child, she pulled from her mother and father's parenting style from growing up in Chockie, Oklahoma. They stressed the importance of the golden rule and infused McEntire with moral values. 
Although McEntire's career was at an all-time high when she gave birth to Shelby, the hitmaker wanted him to have a normal childhood – despite her fame and fortune. 
"When we would play games or cards, I'd never let Shelby win," McEntire told PEOPLE. "He wouldn't have learned anything that way. I always told Shelby, 'I'll always love you, but I want other people to like you. So don't be a little jerk. Don't be a spoiled brat.'" 
Shelby's kind soul and character reflected on McEntire's parenting, as many would frequently praise. 
"A lot of people have told me, 'You would never know [he] had been blessed with the life he was given," she recalled. "I'm very proud of him." 
McEntire continued to mention that her son had learning disabilities but overcame several obstacles on his own. 
"He was a kid who had ADHD and could barely read in school, and now he's read 10 books this year," the songstress pointed out with pride. "He's always trying to improve and do better. His daddy did a great job too," she added. 
Before being blessed with her sweet bundle of joy, McEntire revealed to the publication that she viewed herself as "self-centered." However, becoming a mother changed her priorities and view on life. 
"Shelby is a gift from God to me," she declared. "We're very close. I  was a very self-centered person to a degree before Shelby. But then there's a little character who  you are given the job to protect and nurture and love and teach, so all the attention's not on you anymore." 
While the chart-topping artist was selling out arenas, winning GRAMMY's, and selling more than 56 million records – she brought her little one along for the ride. She confessed to the outlet that she couldn't have done it without help. 
"I had the best nannies, and I took him on the road with me," shared McEntire. "When I couldn't, I would fly home after a concert, get him up in the morning, take him to school and pick him up. We'd play until I had to fly out again for a concert that night. I wanted to be with Shelby. Still do." 
The 32-year-old is now a professional race car driver married to Marissa Blackstock. The two had a fairy-tale wedding at Walt Disney World in February. The star-studded ceremony took place on Main Street U.S.A, looking towards Cinderella Castle. 
"Shelby and Marissa are very busy with their jobs," McEntire said. "When I do get to go home to Nashville, we have a brunch or a dinner and see them."