CMT Roundup: New Music From Jo Dee Messina, Frank Ray, Ashley McBryde and More
Check out CMT's favorite new songs of the week on CMT's The Roundup playlist.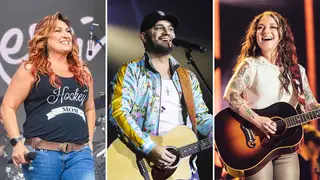 Summer is officially in full swing with the hottest days on record making headlines this week. Country artists including Ashley McBryde, Jo Dee Messina, Frank Ray, Kristian Bush, Ashley Cooke, Dylan Marlowe, Camile Parker and more have got you covered with new music this weekend whether you're diving into the lake, working in the garden or sitting under the air conditioner.
Check out their new songs and more of CMT's favorites on CMT's The Roundup playlist.
Ashley McBryde, "Made For This": "Travis Meadows and I wrote 'Made For This,' and at the time, I was still touring in a van, and he was using his truck, so we definitely had touring and the life of musicians top of mind," shares McBryde. "But this song reaches beyond that. It's not just touring musicians and bands and crews who are on the road 200+ days a year who are 'calling home for a telephone goodnight kiss.' It's also members of our military, our truck drivers and those that work long or odd hours sacrificing time with their family. We're lucky we're made for this."
Dylan Marlowe, "Dirt Road When I Die" (EP): "The Dirt Road When I Die" EP is really the first project I've gotten to put out," Dylan said. "I'm really excited about all of these songs, and it feels super authentic to me, which is what I wanted it to be. It's got a lot of energy and a lot of songs for the live show, but also some that mean something to me. It was really fun to put together a project from top to bottom, and I hope y'all love it."
Jo Dee Messina, "Just To Be Loved": "The gist of the song is, don't change who you are just to be loved because God made you perfect. He made you priceless, and He already loves you with a perfect love."
Kristian Bush, "Working Hard At Hardly Working": "'Working Hard At Hardly Working" is an anthem that captures the essence of the modern work-life dilemma, reminding us to find joy in the journey, and make the most of every moment," Bush says.
Ashley Cooke, "your place" and "enough to leave": "One of the coolest parts about releasing an album with 24 songs is that I can really dive deep into all the different sides of my experiences and feelings," Cooke said. "The songs I'm releasing today explore two different emotions I have experienced after relationships ended; both are ultimately about seeking happiness after it didn't work out. Breakups are complicated, and 'your place' and 'enough to leave' both dig into that."
Drew Baldridge, "Honky Tonk Town": "If you love honkytonk line dancing country songs, I wrote this song for you," Baldridge said.
Randy Rogers and Wade Bowen, "Hold My Beer Vol. 3" (album): "These albums are a party, a friendship, a brotherhood, and an opportunity to do something different," Bowen said. "I love writing these songs, and I hope you feel how much fun we have together. That has always been the strength of 'Hold My Beer'…and I think these are some of the best songs we've ever done!"
Rogers added, "We hope you enjoy this new installment of 'Hold My Beer' as much as we had making it. See you on the road."
Camille Parker, "Heartless": "Creating 'Heartless' has ignited the most beautiful creative fire within me. This song is a feel-good, angsty up-tempo meant for anyone who's ever felt their kindness was mistaken for weakness or experienced a time where they wish they would have used their logic more and heart a little less. "
Frank Ray, "Frank Ray" (debut album): "Country has always been the music that's closest to my heart. It's always been like my comfort food for my soul," Ray said. "With that said, it's also been fun to incorporate different elements of who I am into this new music. This project stays true to my heritage and upbringing, fusing a Latin flair, cool and funky arrangements, Classic Rock and R&B grooves alongside 90s Country inspired barstool songs. And there are definitely some high-energy party anthems to boot!"
He adds: "My intention was always to come into Country music with something refreshing, different and new. This album has always been my dream – to put out a body of work at mainstream Country music as a signed artist that isn't just MY contribution to Country music; it's also hopefully paving the way for other Hispanic artists to come into the format."