Travis Tritt Forced To Cancel November Tour Calendar Due To Knee Injury
Travis Tritt will return to the stage on Thursday, Dec. 1, in Abilene, Texas.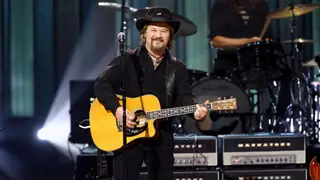 Country music artist Travis Tritt is pumping his breaks to prioritize his health.
Tritt explained that his knee injury was the cause of the sudden decision and that the time off would be used to speed up the recovery process.
"I have been experiencing severe pain in my left knee for the past few weeks due to a possible torn meniscus," wrote the hitmaker. "With short bits of rest between shows, I have hoped that the pain would eventually subside and I could complete all of my remaining dates in November, including all the dates on the  current Can't Miss Tour with Chris Janson and the War Hippies."
Tritt tried to persevere and push through, but the pain he was currently enduring was too server to go unnoticed.
"Unfortunately, the pain has become impossible to ignore, and I will not be able to do any further shows in November," he declared. "Refunds for these shows will be available at point of ticket purchase. I appreciate everyone's understanding, and I hope to return t the road as soon as possible,"  he added.
The platinum-selling artist continued to list a string of dates affected on the Can't Miss Tour. The canceled stops include – Nov. 3 in Greensboro, N.C., Nov. 4 in Florence, S.C., Nov. 5 in Richmond, VA., Nov. 10 in Anderson, S.C., Nov.11 in Tupelo, Miss., Nov. 18 in Pensacola, FL., and Nov.19 Atlanta, GA.
The vocalist also removed a solo show in Choctaw, Mississippi, from his calendar on Nov. 12. Tritt is slated to return to the spotlight on Dec. 1 in Abilene, Texas.
Following Tritt's update, Janson confirmed the news on his social media accounts.
"To my fans that bought tickets to the 'Can't Miss Tour,' I just found out that Travis has a knee injury & has to cancel," Janson explained. "Unfortunately, I've tried every way to still come play the sows for ya'll, but it's unable to happen! I'm sad & devastated."
The two musicians were previously forced to cancel their concert in Estero, Florida, because of Hurricane Ian. Janson and Tritt announced their highly anticipated trek, shortly after they released their collaboration track "Things You Can't Live Without." The duet lives on Janson's latest record, "All In."
Tritt advised ticket-holders to stay up-to-date with his official website for updates and additional information.