Brittany Kennell Vows to Empower Women in "Eat Drink Remarry"
"Life moves on and love will find you again."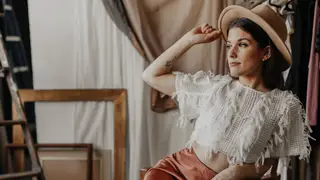 "If you gotta force it / It's called divorcin'."
That's just one part of the perspective shared by singer-songwriter Brittany Kennell in "Eat Drink Remarry," her eye-catching new video.
"In 2018, I was engaged and planning a wedding that was later called off. Coming to terms with a different forever than the one I had envisioned, I found new meaning in an old song," she says. "I felt brave in the decision I made to get out of the situation that was no longer making me happy. As my first song post breakup, I wanted to empower other women should they need to do the same."
A former contestant on The Voice, Kennell says the music video was inspired by wanting to share her story in hopes of relating to others.
"I ended up having so much fun dressing up as a bride and it really helped me realize that even though life doesn't always work out the way we intend it to, it doesn't mean it won't work out at all -- and that's OK! Life moves on and love will find you again."
---
Songwriters: Brittany Kennell, Emily Reid; Director: Charles-William De Melo; Producer : John-Anthony Gagnon-Robinette