2023 CMT MUSIC AWARDS: Blake Shelton, Keith Urban, Lainey Wilson and More Revealed In First Round of Performers
The 2023 CMT Music Awards are set for April 2 in Austin, Texas and will air (8:00-11:00 PM, live ET/delayed PT) on the CBS Television Network.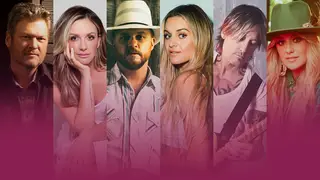 Lainey Wilson is the leading nominee at the 2023 CMT MUSIC AWARDS that will air live on CBS from Austin, Texas' Moody Center on Sunday, April 2. Kane Brown and Kelsea Ballerini will host the show. And when the first round of performers was announced on Tuesday, fans learned that all three would also sing on the show.
In addition to performances from Wilson, Ballerini and Brown (who was previously announced with his wife Katelyn), other artists scheduled to take the stage include Blake Shelton, Carly Pearce, Cody Johnson, and Keith Urban, who are all nominees. Carrie Underwood was the first performer announced for the award show, a moment that happened in November when Ballerini traveled to Underwood's concert in Texas to ask her in person.
A fan-favorite at the CMT Music Awards, Underwood is the winningest artist in CMT Music Awards show history.
Shelton has won eight CMT Music Awards in the last 20 years, and this performance marks his first return to the CMT Music Awards in five years. He plans to sing his current single, "No Body."
Pearce's performance is the follow-up to her fiery delivery of "Diamondback" in 2022. She's also included in the categories "Female Video of the Year" and "CMT Performance of the Year."
Johnson wowed fans at the 2022 CMT Music Awards with his performance of "'Til You Can't," which earned him a nomination this year. He also tied for most award wins of the night and is nominated for three additional trophies on April 2.
Urban is the second most-nominated artist in the history of the CMT Music Awards and will compete for his fourth Video of the Year trophy this year. He's picked up nine wins in his career and is also nominated for his show-opening performance of "Wild Hearts" from last year.
Voting for the 2023 CMT MUSIC AWARDS is now open at vote.cmt.com.
More performers and presenters at the 2023 CMT MUSIC AWARDS will be announced in the coming weeks.
For its inaugural year on CBS, the 2022 CMT MUSIC AWARDS delivered 5.89 million viewers, a 529% increase from June 2021, also dominating on social with 2.7 billion impressions across platforms.
The 2023 CMT MUSIC AWARDS Executive Producers are Margaret Comeaux (CMT), John Hamlin (Switched On Entertainment), Leslie Fram (CMT), and Jason Owen (Sandbox Entertainment); Patrizia DiMaria (Ladypants Productions) is co-executive producer; Jackie Barba and Heather D. Graffagnino are executives in charge of production; Shanna Strassberg and Taryn Hurd are talent producers.
The 2023 CMT Music Awards are set for April 2 at Austin, Texas' Moody Center, and the show will air (8:00-11:00 PM, live ET/delayed PT) on the CBS Television Network and will be available to stream live and on-demand on Paramount+.*