Darius Rucker, Lyle Lovett Set To Appear In "Big Sky" Alongside Reba McEntire And Rex Linn
Country music fans will witness Darius Rucker's dark side in the crime-drama "Big Sky."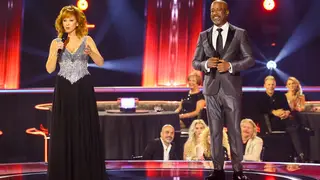 Buckle up crime junkies, season 3 of ABC "Big Sky" is about to become more deadly.
The network recently announced that country music sensation Darius Rucker will join the star-studded cast as a special guest. The hitmaker may go "Straight To Hell" after the crimes he commits in the action-packed drama.
The platinum-selling artist turned Hollywood actor will play a man named Possum. According to Deadline, Rucker will portray a "hired gun who works at night like his nocturnal namesake." The bone-chilling character will work closely with Lyle Lovett [Tex] on a mysterious project.
Lovett serves as a professional tracker, who also is a well-mannered cowboy. However, he uses his musical abilities as a superpower to charm ordinary folks. Lovett is no stranger to the small screen, as he made numerous cameos in "Blue Bloods" and "Life In Pieces."
Although Rucker is an award-winning vocalist and Grand Ole Opry member, he has an impressive resume of on-screen credits. In 2017, Rucker took on the role of Johnny Bragg in an episode of CMT's "Sun Records," performed in "Hawaii Five-0," "Scooby-Doo!," "Shallow Hall," "Kiss: Rock and Roll Mystery," and more. He also has his own show "Rucker's Reno," which airs on The Design Network.
20th Television and A+ E Studios not only tapped Rucker to partake in the buzz-worthy production, but country legend Reba McEntire and real-life boyfriend, Rex Linn. The three-time GRAMMY winner and Golden Globe-nominated actress plays Sunny Brick, "the mercurial matriarch of the Brick Family." Her character is described as a "successful" backcountry outfitter with a secret list of missing customers.
Season 3 of the suspenseful binge premiered on Sept. 21 and features season regulars Cassie Dewell (Kylie Bunbury) and private detective Jenny Hoyt (Katheryn Winnick). The fearless crime solvers tackle a new case involving the country icon and her on-screen husband, Buck Barnes with sheriff Beau Arlen (Jensen Ackles).
The cable television show sparks a new mystery about a hiker named Mark Woodman, who falls off a cliff. The finger-biting incident occurred shortly after checking into Sunny Day Excursions. From the way McEntire and Linn handle the situation, many believe they are the ones behind the unsolved crimes connected to their luxury camp.
The network has yet to confirm when the The Hootie & The Blowfish frontman will make a grand appearance. New episodes air every Wednesday on ABC at 10 p.m. ET. The must-watch series is also available to stream on Hulu.