Love and Theft Make "You Didn't Want Me" Video a Family Affair
Duo Talks First 12 Years, Best Tim McGraw Advice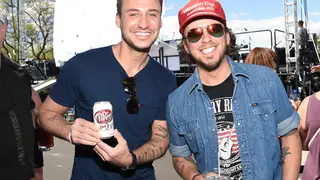 After performing together for a little more than 12 years, Love and Theft's Eric Gunderson and Stephen Barker Liles consider themselves as more than a duo.
They're family; two old souls creating heartening music for today's country fan. The two met on Belmont University's campus in Nashville in 2006 through their mutual friend Canaan Smith and started as a trio with Brian Bandas, who left the band in 2010. The duo's name Love and Theft comes from the 2001 Bob Dylan album of the same title.
Currently on their third record deal, Gunderson and Liles continue to aspire to make original work that resonates with their dedicated following, the Theftheads. The first release from their yet-to-be-titled forthcoming album from Curb Records is the upbeat breakup anthem, "You Didn't Want Me."
"Our musical journey has taught me one major thing," Gunderson tells CMT.com. "Stay true to yourself and your music. People recognize and appreciate authenticity.
"The reason we are still playing together is that we believe in the music we make together. We love singing together, and I think our voices really complement each other's."
Industry vets Jim Ed Norman and Josh Leo are co-producing their next album, a collection Gunderson believes sets up the Love and Theft sound of tomorrow.
"We were able to spend more time on this album in the studio than any other to date," Liles says. "Having a great studio like Curb Studio A That we could just camp out and make music without having to leave at a certain time every day definitely reflects on the sound of the whole album as a whole."
"I think the record shows how we have changed over the years and accurately depicts where we are," Gunderson adds.
Shooting the official video for "You Didn't Want Me" music video was a family affair. Liles' sister Rebekah co-stars as the crazy ex-girlfriend in the video, which features a classic film effect. Gunderson and Liles built the set with their friend Clint Hazelgrove and Gunderson's father.
"Grant Claire did a really good job capturing our vision," Gunderson says, "and it was a blast having our friends and family involved in the project. It was definitely the hardest we have ever worked to make our vision come to life."
We wrote this song a number of years ago with Tami LaTrell and Roahn Hylton at an EMI songwriters trip out in California. We've been playing the song live for a long time, and it has gotten an amazing reaction over the years, so we thought, "Dang! We need to release it." Thankfully Curb gave us the opportunity to do that.
I think this collection of songs represents where we have wanted to go musically for quite some time. Having Jim Ed and Josh co-produce the record with us allowed us to take risks we may not have taken in the past. Jim Ed and Josh's working relationship is very similar to their friendship of over 30 years, and it is inspiring to be a part of. They treat each other like brothers. Their creative genius is incredibly inspiring, and it shows in the music.
One of the best things Tim McGraw told us when we toured with him was, "Record the best songs you can find. Most people don't worry about who wrote it. They just want to hear their favorite song, and the band they love singing it. There are too many good songs out there to not listen to what's out there and see if it fits you, your sound and where you are as a band."
We just try and write what comes naturally. Even if we write a song that may not relate to us at the moment, at some point, there's a story in there that we did relate to in the past. I think all topics are fair game. Even if you don't relate to the idea on a deep or personal level, someone else will.