Kelsea Ballerini And Carly Pearce Shock Fans With Surprise Performance Of "You're Drunk, Go Home"
WATCH: Kelsea Ballerini takes a trip down memory lane with a chilling cover of 2015 hit "Stilettos."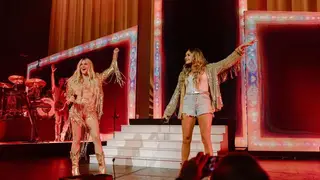 Country music fans have learned to expect the unexpected from Kelsea Ballerini. The country-pop sensation is currently on her 10-night-only headlining Heartfirst Tour and is pulling out all the stops before she wraps in mid-September.
During a recent (Oct. 1) performance at Chicago's Rosemont Theater, the songstress surprised fans by welcoming Carly Pearce to the stage to deliver their recent collaboration "You're Drunk, Go Home." 
In a gold-encrusted ensemble, the hitmaker began the high-energy anthem. As ticket-holders nonchalantly sang along to the catchy chorus, Ballerini abruptly stopped to welcome Pearce. 
"Now y'all, I did say I love this city, and I have to do something to make it a little bit extra special for you tonight," she told the rowdy audience. "Give it up for Carly Pearce!" she screamed, causing an explosive round of applause. 
Pearce emerged from the side wing in confidence. The two fed off each other's sassy energy to deliver the '90s-infused track that lives on Ballerini's fourth studio album and also features GRAMMY Award-winner Kelly Clarkson. 
"You're drunk, go home |  If you're tryna hook up, gotta do it alone | The way you're slurrin' and the way you stumble | Ain't no way you're gonna get my numbеr |  Hey, walk away | So me and my girls can do our thing |  I ain't lookin' for a one-night rodеo | You're drunk (Uh-oh), go home," the two belted. 
Their fierce harmonies in the girl power anthem are paired with electrifying guitar licks, but the underlining message about self-worth is what brings "You're Drunk, Go Home" to new heights. Ballerini co-wrote the twangy track alongside Julian Bunetta and world-renowned writer-producer Shane McAnally. 
Following the jaw-dropping rendition, the two shared a warm embrace. Pearce did not make a second appearance in the spotlight, but the "What He Didn't Do" singer watched from afar and documented every moment. 
"The worst video quality ever, but I'm the most proud friend," Pearce wrote alongside a clip of Ballerini delivering "Universe" on her Instagram story. She also shared [Oct. 2] a string of photos from the impromptu evening. 
"What did I do on my first Saturday off in months? Run to @kelseaballerini  😍 #yourdrunkgohome," she captioned the carousel. 
Notable names in the industry and fans flocked to the comments to praise the infectious act that took place in Chicagoland and the boozy bob. 
"❤️❤️❤️," said Lady A's Hillary Scott. "Obsessed is an understatement," shared a follower. "True friend. True artist. True wine enthusiast. I just love ya," added Ballerini. 
The platinum-selling artist also reflected on the sweet surprise on Twitter. 
"CHICAGO + A SURPRISE FROM @carlypearce = ✨HEART EXPLOSION ✨ what a special night y'all this tour just keeps getting more and more magical," she pointed out. 
While Ballerini shocked concert-goers with the duet – she also performed 2015 favorite "Stilettos," specifically for her windy city fans. The track from her debut album is typically not on her set list, but she decided to pull it out from the vault for old times' sake. 
After leaving a significant mark in Chicago, the hitmaker will make stops at Los Angeles' legendary Greek Theater, The Met in Philadelphia, and will finish up at Connecticut's Foxwoods Resort Casino. Tickets are still available for purchase, here.