Old Dominion on the Brutal Eight Seconds
The Backstage Q&A After the Band's CMA Win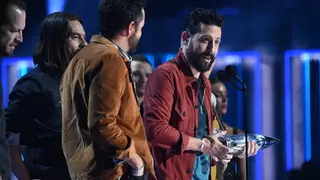 There was an eight-second pause between "the CMA vocal group of the year goes to" and "Old Dominion."
Those eight seconds were, to quote the band's tweet, brutal.
And when the guys in Old Dominion -- Matthew Ramsey, Trevor Rosen, Whit Sellers, Geoff Sprung and Brad Tursi -- came backstage on Wednesday night (Nov. 14) to talk about the win, which was their very first CMA Award, they admitted that they felt cautiously optimistic about their chances. Until that pause.
"We felt pretty good coming in, but you never know," Ramsey told reporters. "It's a tough category. I personally felt good right up until the moment that they opened the envelope. And then I thought, 'Well, we don't have it.' And then they said our names, and it felt really really good.
"It's very gratifying and validating that we finally get one of these."
Ever since the band's 2015 breakout debut single "Break Up with Him," they've grown a massive following and have released hit after hit after hit. So will the future hold more of the same?
"Make It Sweet" is the first song from their upcoming album, and Ramsey explained how it's a sign of things to come.
"It's the perfect snapshot of where this album is headed. It was such a pure and honest moment with us, because we wrote it in the studio and recorded that song in the same day," he said.
"It really captured who we are as songwriters right now, and who we are as musicians right now. We are just real comfortable and confident in our place right now. Great things are happening." (And it sounds like they've already shot the video for the song, so that should be arriving soon.)
"All that feeds our soul," he said, "and we're just really happy with the music we're making right now."