Parker McCollum Turned To Vince Gill and George Strait For Inspiration, But Doesn't Feel "Part Of The Machine"
Parker McCollum notched his third consecutive No. 1 with "Handle On You," released his second album with UMG "Never Enough," moved to Texas to escape.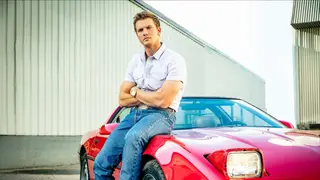 Parker McCollum remembers the tears running down his mama's face. He'd graduated high school about 10 days before, and his truck was already packed. Many of his friends were enrolled in impressive universities and planned to join fraternities when he started classes a few months later. But not McCollum. Determined to be a country singer, he was headed to community college in Austin, Texas, about three hours away.
"I was probably the least promising prospect in the state of Texas at the time," an always-humble McCollum said.
His gamble paid off. McCollum released his sophomore album on UMG "Never Enough" last week. The album is home to his current chart-topper – heartbreak, drinking up-tempo "Handle on You." The song is McCollum's third consecutive No. 1 hit following his debut single "Pretty Heart" and "To Be Loved By You."
Critically acclaimed songwriter and producer Jon Randall produced the album.
"It was obvious from day one to me that Parker is a real and true artist," Randall said. "As a vocalist, he doesn't sound like anyone else, and he's mastered his craft to become his own singer. He's a fantastic entertainer and as a recording artist he has never been afraid to take chances and see how far he can push the boundaries in the studio."
Randall added that he's also a good guy, a great Texan and "amazing to work with."
"As a songwriter, he knows exactly what he wants to say," Randall explained. "He has a unique point of view and an innate sense of lyric and language."
McCollum co-wrote 14 out of the 15 songs on his album, except the Monty Criswell, Lynn Hutton and Taylor Phillips song, "Things I Never Told You."
He chose it because he felt he could have written it – and it reminded him of his mom. Lyrics include: I kept a well-hid can of Skoal in the console of my Chevy| Got a real good education skippin' school in the backseat on that levy| If you'd caught wind of half my sins you'da whipped my ass through and through| Back then if you knew, things I never told you
"I had a secret compartment in my Chevy truck in high school where I kept my dip," McCollum admitted. "I heard the song, and I'm like, 'This is right up my alley. I thought, 'Man, my mom would just love to know that I cut that song for her. It really just hit home."
While his mother might have been the motivation behind "Things I Never Told You," McCollum turned to Vince Gill's back catalog for inspiration writing other songs on the album. He listened to "Pretty Little Adriana" on repeat for three days last summer. He aimed to write songs inspired by the captivating melody and no-frills lyrics Gill used to craft "Pretty Little Adriana." He admitted he "tried to be a wordsmith" on some of the songs but said that most of it is just the "same old me sitting around trying to write sad country love songs about everything going terribly wrong."
"Blame Me" and "Tough People Do" are the songs that came out of the experiment.
"I don't even know that someone who knows Vince Gill's entire catalog would even connect him to those songs or that song to those songs," McCollum said. "It's not like they're the same subject matter or the same tempo. I just tried to write really pretty melodies with really simple lyrics."
McCollum turned to David Lee Murphy, another '90s country stalwart, for inspiration for his song "Hurricane." But this time, Murphy was in the room with them. The pair penned the song with Jon Randall and Randy Rogers. Murphy brought the idea to McCollum, and while it is an undeniable left turn of the singer, he loved it. "Hurricane" is the first time McCollum said "beer" in a song.
"I just thought it was so whipping and rocking and country," McCollum said. "I never write stuff like that on my own."
He said it's the only one of its kind on "Never Enough" and that every other song is consistent with his past material, which he thinks is a "really good thing."
"If you look at George (Strait's) career, it's straight up the whole way," he explained. "It never takes a left or a right. I try to kind of always keep that in mind."
He sometimes struggles with staying his more classic course, especially when he sees other artists succeeding with more progressive tracks. McCollum maintains he will never be a pop-leaning artist or play to a click track. He doesn't think he could write songs with those elements. So he leans into his strengths as an artist instead of worrying about the tempting, trendy components that have never had a home in his songs.
"I like country songs that stand the test of time and are not just a flash in the pan," he said. "I feel like some of my best melodies I've ever come up with are on this record. I don't think I have tapped into what I'm truly capable of as a songwriter and as a performer, and as a country singer in general. But, I think this record is a step in the right direction."
When it came to which song most reflects his life, McCollum pointed to "Best I Never Had." Lyrics include: Why was I itchin' to get out of Nashville so bad?| I made you believe my dreams were the only dreams we had| I've been around this town, rodе both sides of the tracks|And I know, girl, that you ain't comin' back|I just wanted you to know, you'rе the best I never had
As soon as McCollum finished writing that song with Will Bundy and Brett James, he started house shopping in Texas. He found a home on a piece of property that and wife Hallie Ray loved. The couple bought it and started the renovation. The day after the interview, the McCollums left Nashville and moved to The Lone Star State.
"I've never really fit in here," he said of Nashville. "If you're not a part of the machine here and you don't play by their rules, it's hard."
He's shocked and thrilled that country radio supports him as wholeheartedly as it does.
Charlie Cook, Program Director WSM-FM/VP Country Cumulus Media, explained McCollum exploded into country music via Cumulus Dallas radio station, KSCS.
"He built such a huge following that has spread widely," Cook said. "Parker has made friends in radio and he'll always have a path with the fans."
McCollum maintains the sun is brighter and he feels more inspired in Texas.
He double-checked with his co-writers to make sure they would travel to Texas to write with him, and they agreed.
"I want to write this whole next record in Texas at my ranch, at my house there," he said. "My soul is on fire when I'm there."
He felt run ragged in Nashville because executives knew he was nearby, and they would routinely call on his days off and ask him to drive the 20 minutes into town to do things. He said fans are the most critical part of the music career equation, and he thinks he can stay recharged and focused on touring for them if Texas is his home base.
"I just kind of want to take the ball back in my court a little bit," he said. "I think getting out of here for a little while is best."
And in Texas, he can hop in his truck and go see his mama anytime he wants.