CMT Roundup: New Music From Brian Kelley, Dolly Parton, Justin Moore and more
To hear these songs and CMT's other favorite new country songs of the week, check out this story!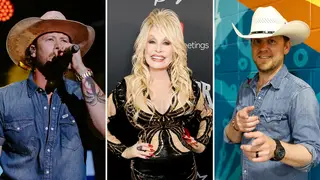 Are you building your Thanksgiving playlist yet? Country music singers ranging from Bill Anderson with Bobby Bare, Jimmy Fortune, Vince Gill and Willie Nelson to The Frontmen with Larry Stewart, Richie McDonald and Tim Rushlow to Dolly Parton, Justin Moore, Midland and more have new country songs this week that should be anything but turkeys this holiday week.
To hear these songs and more, see CMT's The Roundup playlist.
Midland, "Wichita Lineman": "Its haunting melodies and lush arrangements hark back to a time when music was more sophisticated and the stories more colorful… A notion that has inspired and continues to influence our sound and songwriting," says Midland's Mark Wystrach. "The heartache and longing in the sparse lyrics provide ample space for soulful vocals that ache and move with the beat without even saying much."
Justin Moore, "This Is My Dirt": "'This Is My Dirt' is a song not only about how you grew up, but more specifically, where you grew up, and in particular, where I grew up," Moore said. "The land that I live on – and the land I'm raising my children on – is the same land that I grew up on. My mom was raised on this land, and it has been in our family since the late 1800s. My great, great grandfather raised my grandfather here. My grandpa inherited the land from him, and then I inherited it from my grandpa. So, it's really special to us, for obvious reasons. But, no matter where you grew up, I think everybody holds a special place in their heart for that place — whether it's a subdivision or thousands of acres. This song is about taking pride in wherever it is that you call 'your dirt.'"
Bill Anderson with Bobby Bare, Jimmy Fortune, Vince Gill and Willie Nelson, "The Country I Grew Up With ": "So far as I can determine, this is the first country record in history featuring five members of the Country Music Hall of Fame performing on one song. I am so proud that Willie and Vince and Jimmy and Bobby wanted to join me in taking this nostalgic look over our collective shoulders. I just hope it stirs up fond memories for everyone who hears it."
Ashley Monroe, "Over Everything": "For me, this project looks and feels like a homecoming for my soul, so we decided to take a team of creatives to the area I was raised in East Tennessee to shoot the visuals. The video for 'Over Everything' celebrates all the small details — down to my Granni's quilt — that have played a part in shaping who I am."
Redferrin, "Jack & Diet Coke" (Juicy J remix): "I'm stoked to have Juicy J remix 'Jack & Diet Coke,'" said Redferrin. "I grew up listening to Three 6 Mafia, so to have their trademark sound painted onto a song I'm so proud of is a bucket list moment. When we reached out to Juicy to do the remix, he hit back right away and said, 'Anything for a fellow Tennessee boy.' I still can't believe I got Juicy J to hop on a country song with me."
Joe Nichols, "'O Come All Ye Faithful": "'O Come, All Ye Faithful' has always been one of my favorite Christmas songs," shares Nichols, "mainly because of its spiritual, powerful, and reverential meaning."
Roman Alexander, "Lit": "Never did I picture myself recording two Christmas songs, let alone a song about getting lit like a dive bar Christmas tree. Rather than making it another cheesy Christmas song, I added my own twangy touch to something that I feel can be played year-round."
The Front Men, "I Need You": "'I Need You' is a mid-tempo love song that brings a bit of nostalgia in the style of the lyric, yet has all of today's production values you expect," says Larry Stewart, who sings the song for the trio. "Adding those Tim (Rushlow) and Richie (McDonald) harmonies makes it sound like a perfect match for the airwaves."
Dolly Parton with Pink and Brandi Carlile, "(I Can't Get No) Satisfaction": "I can't tell you how proud I am of the 'Rockstar' album, and I can't tell you how happy I am that it's finally here to be released," Parton said. "I really had a wonderful time working with all these iconic artists on the record and all these iconic musicians.
Not to mention all these iconic songs that I think everybody will love hearing again. I just hope you enjoy my version of them."
Brian Kelley, "How We're Livin'": "'How We're Livin'" is an authentic anthem celebrating family tradition and country living," Kelley said. "Most people know my love for the beach, but I've been in a cowboy hat since birth. This song is all about being proud of where you come from and living life to the fullest. I'm constantly inspired by everything around me, and these lyrics really do reflect a genuine connection to my roots and what's influencing my forthcoming debut album."