23 Unexpectedly Patriotic Country Songs That We Have on Repeat
Modern Songs + Vintage Throwbacks = The Only Playlist You Need This Week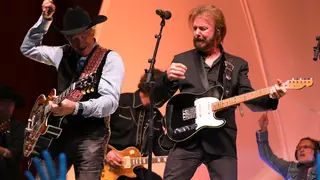 Editor's note: This story originally appeared during the 4th of July holiday in 2019. When people were looking forward to gathering with friends and family to watch the fireworks, grill some burgers and have a few cold beers. So while we know that this year's Independence Day festivities will look different, or might not happen at all because of the COVID-19 safety measures in place, we still think these songs are reason to celebrate this great country of ours.
I know, I know. It's almost the Fourth of July and we are all supposed to be making (excuse me, "curating") playlists of all the songs with U.S.A., America, God, stars and stripes in the title. But what if this year was the year we dug a little deeper? And found the songs that made us feel patriotic without being so damn literal about it?
This is that list. These are honestly some of the most fitting songs about what it's like to love life in our country and to love the people who feel the same. To explore our highways and small towns and dirt roads and farms and big cities, to celebrate the everyday, to stand up for our freedom, and to be willing to die doing so. And to be proud, every day, to be American.
(But rest assured, we've included a few old Independence Day standbys just for good measure.)
"Mission Temple Fireworks Stand"
"Justice and Independence"
We're not the only ones loving songs that make us love America. Listen to which patriotic songs country artists are obsessed with.