Jelly Roll Celebrates First Country No.1 With Single, "Son Of A Sinner"
Jelly Roll: "I'm so filled with gratitude as tears stream down my face while I type this, I currently have the number 1 song on country radio."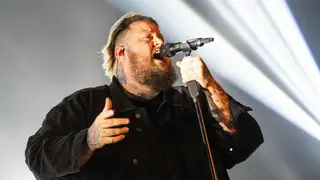 Genre-transcending artist Jelly Roll [Jason DeFord] is officially a country music chart-topper.
The world-renowned rapper turned country-rocker received his first No.1 with his debut country single, "Son of a Sinner." The gold-certified track graced the top of the Country Aircheck chart, Country Radio, and Billboard.
Although "Son of a Sinner" serves as Jelly Roll's first country chart-topper, he previously went No.1 with rock banger "Dead Man Walking." The Nashville native penned the vulnerable ballad alongside award-winning songwriters Ernest K. Smith and David Ray Stevens. The personal lyrics convey his previous battle with drug addiction and his questionable decisions.
Jelly Roll jumped on social media over the weekend (Jan. 8) to express his gratitude and to reflect on his personal growth.
"There is no greater reward for a singer and songwriter in Nashville, Tennessee than to have the #1 song on country radio," he wrote. "Now imagine that happening to a guy that grew up in this town…a guy that at every turn the first 25 years of his life, he made the wrong decision."
In true Jelly Roll fashion, he placed his heart on the line and shared his rags-to-riches story. The promising artist, known for his transparency, said he encountered several naysayers while finding his footing in the country genre.
"Imagine everyone telling that guy he had no chance at country radio. 'You're too overweight, you have too many tattoos, they will never let another convicted criminal on country radio' – now imagine country radio proving everyone wrong and taking the chance on the song, the message, and the man," Jelly Roll pointed out. "If you can imagine that, then you can understand why I'm so filled with gratitude as tears stream down my face while I type this, I currently have the number 1 song on country radio," he added.
He continued to thank his devoted fan base, country radio, and label for making his dream a reality. Jelly Roll mentioned that his journey in the 10-year-town has been far from easy, as industry giants were hesitant to take a chance on him.
Jelly Roll spent nearly 12 years in prison for aggravated robbery and drug possession. As a child, he was in and out of the Davidson County Juvenile Detention Center, a facility that he now gives back to. While incarcerated, he discovered his deep passion for music.
"Thank you to my fans who called and requested this song at their local radio station and celebrated like I did the first time they heard it played – I do this for y'all. Thank you, Country Radio and all the DSPs, for making 'Son of a Sinner' my first number 1 at country radio. I vow to never let you down or forget the change you gave me when everyone told you not to!" he said. "I want to take a second to thank my label STONEY CREEK AND BMG – Loba [ president BBR Music Group/ BMG Nashville] and his misfits – y'all too the biggest chance – every label in town told me I had a better chance signing with a label in LA than to ever have a chance in this town with my history – not only did that not scared BMG it made them want to double down and go all in!"
The 2021 hit, lives on his critically acclaimed album "Ballads of the Broken." Upon release, "Son of A Sinner" became the most-added song on country radio. Following the release, Jelly Roll went on tour with Brantley Gilbert and dropped "Son Of The Dirty South." He received a tearful standing ovation at the Grand Ole Opry alongside Craig Morgan, and sold-out his first headlining show at Nashville's iconic Bridgestone Arena.
The must-watch artist is gearing up to release his first full-length country album, which will include his heart-wrenching track "She." Jelly Roll has yet to confirm an official release date.