CMT Video Premiere: Trace Adkins and Melissa Etheridge Team for "Love Walks Through the Rain"
"Love Walks Through the Rain" is from Adkins' album, "The Way I Wanna Go," which also includes songs with Luke Bryan, Pitbull, Blake Shelton and more.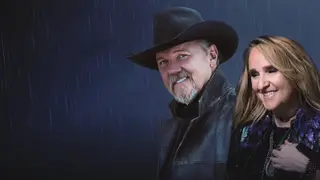 Trace Adkins was thrilled when Melissa Etheridge joined him on his song "Love Walks Through the Rain" and even happier when she agreed to do the music video, which debuts today on CMT.
"I'm honored," Adkins said. "To my knowledge, this is her debut in a country music video."
Written by Adkins' producer Mickey Jack Cones, Marla Cannon-Goodman and Kelly Archer, the soaring ballad leans into the '90s country trend. It examines the idea that making love work isn't always easy.
"The Melissa Etheridge thing, I've done very few duets with females in my career because it's hard to find a female vocal that blends with my voice because my voice is so low," Adkins said of the song on a Zoom call with various outlets. "Her voice is perfect with my voice, and I kind of suspected that that was going to be the case. And when I got that track back after she put her part on there, it was like, 'Oh my God, I should've been singing with her for 20 years.' Our voices blend better than any woman I've ever sang with, and I just thought she killed it. She's amazing."
Adkins said he loved the melody and the lyrics the first time he heard the song.
"As I have often said, my favorite videos are those that follow the storyline of the song," he told CMT. "This one is no different. The directors, Mike Stryker and Andrew Rozario, did a great job of letting the music tell the story."
The singers filmed the music video for "Love Walks Through the Rain" as the sun set, but the video feels like a rainy day.
So, during the video, when I was looking out the window at the rain falling, I was watching a beautiful sunset instead," Adkins said, explaining that he hopes people like the video.
The song is from Adkins' most recent album, the 25-song-strong "The Way I Wanna Go." The album is also home to collaborations with Luke Bryan and Pitbull, Blake Shelton, Snoop Dogg, Keb' Mo' and Stevie Wonder on harmonica.
"I've got to the point where it's all up to me now," Adkins said. "I can do whatever I want … and that's a beautiful place to be."
His headlining THE WAY I WANNA GO TOUR is reaching into 2023, and Adkins is starring in FOX's new Country music drama series, MONARCH.
"I am at the top of my game right now," he said. "I'm better at this than I've ever been in my life, and I like the way my voice sounds better now than 25 years ago."