CMT Roundup: New Music Darius Rucker with Chapel Hart, HARDY, The War And Treaty, King Calaway and more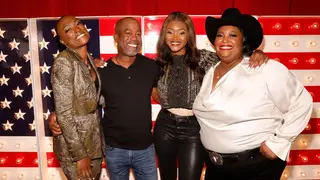 Fall is in the air in Music City and so is new music. Darius Rucker and Chapel Hart are raising the roof on cooler temperatures with their blazing and soulful harmonies. King Calaway is getting people dancing with its tribute to Steve Miller Band. The War And Treaty are bringing the soul to country music and HARDY is neck-deep in storytelling with "JACK."
Hear these songs and more on CMT's playlist CMT Roundup at the bottom of the page.
HARDY, "JACK": It's no secret that fast-rising star HARDY has a way with his words. On the heels of his domestic violence heart-tugger "Wait In The Truck" featuring Lainey Wilson, the critically acclaimed singer-songwriter is sparking a difficult dialogue once again in his recent release "JACK." The Mississippi native co-wrote the exhilarating heater alongside frequent collaborators David Garcia and Hillary Lindsey. Together they touch upon the harsh reality of alcoholism and how it triggers unusual behavior. 
"Don't listen to momma, hell, I ain't the devil | Ditch me when you wanna but if you need a little |  I can fix your problems, I always got your back |  I can make you famous by the way my name is…Sh*t (Sh*t, sh*t) | It ain't my place but I gotta admit," sings HARDY displaying his signature grit and robust vocals. 
The award-winning artist is a fearless creator with a distinctive ear. "JACK" proves that HARDY is a musical risk taker, not afraid to push the boundaries of country music. The vocalist intertwines his rich knack for country storytelling, while shining a light on his headbanging rock side. The captivating hook paired with the eerie electric guitar pulls in "JACK," will leave listeners hungry for more country-rock bangers from HARDY. 
"'JACK' was originally written before 'SOLD OUT,' so it kind of got the ball rolling," shared the hitmaker. "I love the story it tells — it's got some deep undertones about alcohol and how it can have a strong grip on people and can really bring you down. I hope people can kind of read through that lyric and understand it. It rocks, and I'm excited for the world to hear it."
The War And Treaty, "Lover's Game": Promising Nashville-based duo The War And Treaty recently released "Lover's Game," a soul-soaked single destined to leave country fans wiggling in their seats. Michael Jr. and Tanya Trotter's real-life chemistry is apparent in the upbeat anthem that pinpoints the rollercoaster side of a romantic relationship. The swing-worthy melody that showcases their powerhouse pipes and refreshing sound serves as the title track to their forthcoming Dave Cobb-produced record. 
"If a fire is what I was looking for to get me going | You lit it up, it up, 'cause your burn definitely left me smokin' | Little Houdini, gone without a single trace| Margarita, hot chicken, strawberry wine | Looking for your lovin' to be mine, all mine," they sing presenting their jaw-dropping harmonies. "Ooh…| It's a shame | Playin' this lover's game | Sound the alarm | Get the Calvary| I let  someone  get the best me." 
The world-renowned country couple said the playful lyrics came naturally during the writing process. They are looking forward to hearing listeners tackle the tongue twister and watching "Lover's Game" dominate country radio. 
"This song came together so quickly when we were in the studio with Dave, and it really kicked off the sentiment behind the album," Michael said. "We had this 'aha' moment about falling in love over food and drinks, and as three foodies it was easy to think... 'Margarita, hot chicken, strawberry wine…looking for your lovin' to be mine all mine!' We can't wait for the chance to turn on the radio and hear this song screaming through the airwaves."
Darius Rucker with Chapel Hart, "Ol' Church Hymn": America's Got Talent finalists Chapel Hart long dreamed of collaborating with Darius Rucker – a dream they were able to fulfill on the show when they covered Bonnie Raitt's "Something to Talk About" during the season finale earlier this month on NBC. Now they're taking it a step further. The trio joined Rucker on his new redemptive ballad "Ol' Church Hymn" that Rucker co-wrote with Ben Hayslip, Josh Miller and Greylan James.
Lyrics include: You soothe my soul like an ol' church hymn| Found in a book in the back of a pew|
Born again love I'm a new person| Hand in the air hallelujah|Amen, Amen, Amen
"Ol' Church Hymn" comes on the heels of "My Masterpiece" and "Same Beer Different Problem" from Rucker's forthcoming solo project.
King Calaway, "I'm Feelin' Good (Steve Miller Band)": With the help of Zac Brown, King Calaway layered its distinct harmonies into this infectious song "I'm Feelin' Good (Steve Miller Band)" that is a celebration of Steve Miller Band's timeless anthems.
"'I'm Feelin' Good' is a song you can't help but groove and dance to," said King Calaway. "It's one of our favorites to play live because the crowd's energy and reaction to it is just unmatched. We had a great time laying it down in the studio and experimenting with some Steve Miller-inspired sounds."
The song, a sing-along jam, was released days before Steve Miller's birthday.
King Calaway is about to join Grammy-nominated Blanco Brown on his Monster Energy Tour and Dustin Lynch on select dates of his Party Mode Tour.