Blake Shelton Surprises Family Trio Worth The Wait With Grand Ole Opry Invitation
Blake Shelton popped in via big screen at his Ole Red in Gatlinburg, Tennessee, where the women were playing to extend the offer.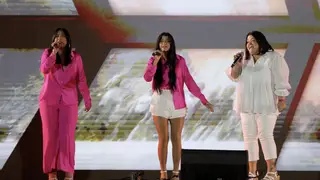 Mother-daughter trio Worth The Wait has received a surprise of a lifetime. 
The country-pop ensemble comprised of sisters Mia Makana, Jacy Leilani Matthews, and their mother Tara Matthews rose to stardom on Season 19 of NBC's "The Voice." Their harmonies scored them a spot on Blake Shelton's team and into the top 17. 
Although their undeniable talents did not win them the grand title, their contagious sound captured the attention of the Grand Ole Opry.  The family band appeared Sunday (Dec. 11) evening at Shelton's Ole Red in Gatlinburg, Tennessee, for a pop-up show.  In the midst of their set, the "God's Country" singer virtually called in with career-altering news. 
The public FaceTime chat caught Worth The Wait off guard, but the invitation to make their Opry debut left them in tears.  
" I just wanted to bump my head in and say hi to you guys," said Shelton.  "Haven't seen you since…I guess... I don't even know when.  Think I saw you one time since you were on the show, and it just makes me happy to know that you're still out there hammering away and playing there at Ole Red," he declared. 
Before extending the prestigious invitation, he shared how "proud" he is of Alabama natives. 
 "Oh yeah, one other thing… I almost forgot.  I'd like to invite you to play at the Grand Ole Opry next year," he added with a beaming smile.  "I mean, if you don't want to that's fine." 
"The Voice" alumni were initially speechless until they graciously accepted and cracked a joke. 
"I think we'll pass," they uttered looking up at the big screen. "Not yeah, but hell yeah!" 
Following the unforgettable conversation with their mentor, the fast-rising stars jumped on social media to share the milestone. Their post included a string of snapshots from a recent visit to the Opry and a snippet of Shelton's surprise. 
"GRAND OLE OPRY 2023 ✨ Got a  call from the big man, @blakeshelton, tonight!!!  And he invited us to make our OPRY DEBUT 😭 Our hearts are exploding," they said on Instagram.  "Wow.  wow.  wow." 
Emerging musicians and fans flocked to the comments to congratulate the group on the well-deserved honor.  
"LETS GOOOO," shared singer-songwriter David J.  "This is so exciting!! Congratulations girls❤️," said up-and-coming artist Ava Paige.  "No one in the WORLD deserves this more.  So proud to know u guys❤️" added Carter Rubin. 
An official date has yet to be announced. The invitation does not come as a surprise, as country music fans recognized their superstar potential after their captivating performances of Martina McBride's "I'm Gonna Love You Through It," Little Big Town's "Little White Church," Tanya Tucker's "Delta Dawn," and "Love Is Alive" by The Judds on the weekly series. 
Since exiting the show, Worth The Wait released their 2022 album, "Vinyl Revival." The 10-song collection includes fan favorites "God Made Her A Fighter," "Love You Like You're Leaving," and "Right Side of Wrong." 
Their recent concert at Shelton's bar and restaurant was a walk-up to the two-hour finale of "The Voice," which airs tonight (Dec. 13) on NBC.  
Shelton is gearing up to retire his red chair come 2023. The hitmaker previously announced that season 23 would be his last.  Shelton has been a coach for nearly 12 years, as he joined Adam Levine, Christina Aguilera, and CeeLo Green in 2011.  Shelton holds the most winning titles in the show's history. 
Shelton currently has the most team members remaining in the heated competition. During the upcoming finale, Shelton is slated to perform alongside Kelly Clarkson, Kane Brown, cross-country artist BRELAND, Girl Named Tom, and more. 
"The Voice" airs Tonight, Dec. 13, at 8 p.m. ET/PT on NBC.