Angie K Talks Migrating From El Salvador, Falling In Love With Country Music And Melissa Etheridge's Priceless Advice
The U.S. recognizes Hispanic Heritage Month from Sept. 15 – Oct. 15, but Angie K celebrates her home country – and Hispanic influence in country music – every day.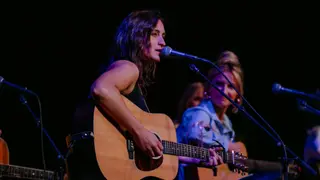 Angie K remembers the first time she heard modern country music. She was 11 years old when she, along with her parents and four sisters, migrated to the U.S. from El Salvador. They were driving to their new home in Georgia for the first time, and The Chicks' "Wide Open Spaces" came on the radio.
"I loved that country was on the radio," she said. "I remember looking out the window and thinking as clear as day, 'Oh that's definitely what I'm going to do.' Here I am."
The U.S. recognizes Hispanic Heritage Month from Sept. 15 – Oct. 15, but K celebrates her home country – and Hispanic influence in country music – every day. K, who is one of CMT's Next Women of Country, will play CMT's "EQUAL ACCESS" SHOWCASE, presented by mtheory & Change The Conversation, on Tuesday, September 26, at City Winery in Nashville. Other artists on the roster include Camille Parker, Dalton Dover, Denitia, Fancy Hagood, Nick Tabron, Sam Williams and Valerie Ponzio.
"You can pigeonhole me all you want," she said. "It's real. I speak Spanish and English, and that's a huge part of where my purpose and a lot of my character comes from."
K, a former contestant on "The Voice" whose songs include "Happily Ever After" with Jordan Fisher, "Country Is As Country Does" and "Real Talk," has accumulated more than 25 million streams on Spotify alone. She sings in Spanish and English and grew up on a small farm in her Central America home country, where she learned about the land and hard work. That experience is what drew her to country music.
"There's a lot of talk in the industry about creating this Latin country market, but for anyone like me that's lived outside the borders, we know that it already exists," she says. "There's more country than city folks in Latin America and Central America and Spain and Mexico."
While The Chicks introduced modern country music, her mom played Johnny Cash, John Denver and Dolly Parton records. After listening to "Coat Of Many Colors" what felt like one million times, K's mother would share stories about her grandmother and great-grandparents.
K's father loved John Wayne and westerns, and when the family moved to Georgia, the singer was confused because she thought all of the United States would look like what she saw on television – old westerns or New York City.
The singer described herself as a tomboy with an outgoing personality when she was younger. She always wanted to talk and be outside, but when her family moved to Georgia, she didn't have a friend group to connect with. Her mom noticed her get quieter. K made up songs and had always loved to sing, so when she asked her mom for a guitar, her mom scrimped to save $100 and bought her the instrument.
Four years after moving to Georgia, K was 15 years old. She took the guitar, borrowed her sister's car, and drove herself to Nashville to play at Bluebird Café. She made the drive to Nashville so many times that she remembers gas roundtrip was $60.12.
As proud as she remains of her initial trip to sing in Nashville, it's the memory of her first trip to perform in El Salvador that makes her emotional. The show was sold out, and she calls it a "really, really big moment." Her dad just got his U.S. citizenship, and while he's so happy to be in the United States, he still loves his home country.
"He can't forget where he grew up," she said. "He can't forget that country and that landscape and those people. That's just part of who he is. And he had to give that up for me to have a better life. So going back home to where he grew up and seeing his friends show up was a very impactful moment."
Stateside, her proudest career moments include performing at Nissan Stadium during CMA Music Fest and opening for Melissa Etheridge. K called Etheridge her hero and said The Grammy-winning rock singer offered her some advice.  
"She put her hands on my shoulder and said, 'Just don't ever worry about the people in the suits as much as you worry about the people in the seats, people that show up," K recalls. "I think about that all the time."
K is finishing up new music to share with the people in the seats. She said "Red Dirt On Mars" will be the next song she releases.
She says the song captures the pain of being apart, not quite in the world and thinking you don't have a place.
K quoted the lyric: "Where's the cowgirl to go to burn a brand off her heart? The man on the moon says there's red dirt on Mars."
She believes the song will speak to her audience.
"I think there's a lot of people out there that have had hardship and it has made their heart kind," she said. "And I think if you described the majority of my fans, that's them. It's people that have experienced hardships, and they allowed it to make their hearts soft and kind."