CMT Premiere: Cody Belew Hopes "Charlene" Helps People Recognize Everyone's "Common Humanity"
"I wanted the actions of Charlene to be a little silly in a sort of Ray Stevens way, but for the things she reacted toward to be very poignant."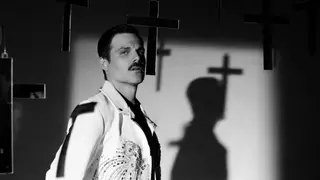 Cody Belew is putting a comical spin on a serious topic in his new music video for "Charlene," a song he wrote inspired by a woman who identified as Christian and was grossly cruel to him because of his sexuality. He hopes people hear "Charlene," which he named after the mean woman, and turn the name into a description of other judgmental, hypocritical people.  
"I wanted the actions of Charlene to be a little silly in a sort of Ray Stevens way, but for the things she reacted toward to be very poignant and very real," Belew said. "The idea of putting oneself ahead of others by way of personal judgment in the name of Jesus is just silly to me, and I think we achieved that with Charlene."
Belew wrote the song alone. Dustin Ransom produced "Charlene." Tim Cofield directed and produced the video. Brandon Vestal was the assistant director.
Belew and his crew filmed the clip in Chattanooga, Tennessee. He built a cross himself and inscribed Charlene's name on it in huge letters. He knew they needed to be big "to help drive the central point- this cross is a mirror, not a weapon."
"As it was coming together in my garage, I just kept thinking, I hope this thing looks right and works when we plug it in," Belew said.
They set the cross up in a field. It was the last set up of the video that became the most memorable.
"It was bitterly cold, and we were filming on director Tim Cofield's family farm," he said. "We were down from the house in this sort of low pasture, and Tim's parents, along with some of the crew and Andie Vestal (who plays Charlene) were sitting around a campfire that Tim's dad had built. From their vantage point, they could see us down there in the pasture as well as the tree line and the night sky spread out beyond."
Once they wrapped shooting, the director's mother told Belew that while I was singing in front of the illuminated cross, "a brilliant shooting star had streaked across the sky directly above us." At first, she thought it was some production trick, but Belew believes it was just God letting them know that they were doing good work."
He said the video came together exactly as he had hoped.
"Every song I write, I think about in terms of its visual representation," he said. "So it came to life exactly how I had imagined it the first time I scribbled it onto a notepad."
He was overcome when he saw the footage of the cross and Charlene's name in lights.
"God guides every step I take, and we built that cross together," he said. "The message was received."
Belew hopes fans who see the video recognize everyone's "common humanity" and "our shared salvation by way of the sacrifice Jesus and others have made for us."
"We are no better than our next-door neighbors, and we are only meant to love and to be loved," he said. "If we practice that exercise, just think of how much better the world could be."