WATCH: Morgan Evans Pulls Back Curtain on "Over For You" CMC Rocks Performance, Introduces Family in "Over For You| A 5 Part Documentary Series"
Fans can see behind-the-scenes of Evans' home country career moment and meet his family in his new five-part documentary series "Over For You" out now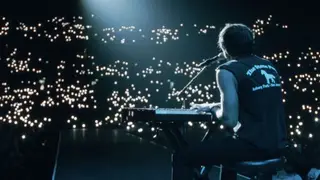 Morgan Evans grew up in Australia, and after playing and hosting CMC Rocks QLD Festival, it is his roots -- and following an impromptu performance of his song "Over For You" in the fall of 2022, it may also be his wings.
Evans penned "Over For You" in the wake of his high-profile divorce from Kelsea Ballerini and debuted the heartwrenching ballad on stage at the festival in front of 25,000 people. The tearful performance and the song went viral, receiving hundreds of thousands of views on social media. Evans' label Warner Music Nashville released "Over For You – Live in Melbourne" to the digital streaming services, and now fans can see behind-the-scenes of Evans' home country career moment as well as meet his family in his new five-part documentary series "Over For You" that is out today on YouTube. The singer's friend Peter John shadowed Evans on his tour of Australia and New Zealand to capture the footage.
"The whole idea was to document the biggest show of my career, playing the CMC Rocks Festival in Australia and headlining it," Evans said. "The original focus (of the documentary) was on the music and coming home, and that's what it's about. But it's not like I could pretend like something wasn't going on. That's the journey of what happened in that moment of my life."
Evans had planned to film his performance and trek through Australia for over a year. The pandemic forced the festival to reschedule, and when the new date was announced, the singer and his team opted to go forward with the filming. It was the first time he had toured his home country in three years. He thought it was essential to capture it -- and he believes it's vital to share it. 
"(The documentary) is something very special," said Shane Tarleton, executive vice president of talent development at Warner Music Nashville. "The final edit is a great balance of live performances to sold-out crowds and intimate, behind-the-scenes footage of Morgan with his family."
Evans wrote "Over For You" the week before and had no plans to play the song at the festival. He didn't rehearse it, but he felt like "Over For You" was something he needed to say on stage at that moment. Following the performance, fans wiped tears from their eyes, and Evans said he feels like he shared his experience with the divorce in the most honest, real and positive way possible. It was the only song he'd written since his divorce, and he said he felt like the song was channeling his emotions into "something positive." 
"It was unpracticed, and I actually played it in the wrong key," he said. "There was just something about that moment. It was the moment in the show where I was going to sit at the piano and play a song solo anyway. I had planned to play a different song, but in that moment, it just felt like something that I needed to do and needed to say."
Evans said "Over For You" is the most authentic song he's written, and he wasn't sure if he wanted to tarnish that by releasing it. But he also wanted to share it with people.
Lyrics in "Over For You" include: I would have searched the whole world over for you|Took a flight, through the night|To be that shoulder for you, and|I would've let go if you wanted me to|How many times did you say you loved me|When it wasn't true?| I'm just wondering|How long has it been over for you?
Evans felt as if a weight was lifted from his chest when he played "Over For You" at CMC Rocks QLD Festival and that when he played it for the crowd, "Over For You" took on a life of its own. He explained that it stopped being his song and now belonged to his fans. 
"It sort of became everyone else's for their own situation in life," Evans said. "The most rewarding part of having released this song is the connection that I've had with people going through something or that it's helping them through or helping them to explain a time in their life or any of those things. When I woke up the next day and realized that the song had made its way into a lot of other people's lives already, I felt like it sort of became a responsibility to."
He knows it's a cliche, but he learned that writing what you feel and being as honest as possible as a songwriter are true statements and techniques he fine-tuned in this process. 
"It's another thing to be able to tap into that," Evans said. "I'm not saying that I can tap into it every day, but definitely since writing this song, there's a new level of depth that I'm trying to tap into as a writer to explain my life experience and share that with people.
Fans who watch the documentary will know Morgan better, he said. He laughed that the world is "so noisy" and that some people still don't realize he is Australian. 
"I find it funny how long I've been doing this and how little some people know," he said." This just seemed like a really important chapter of my life in terms of the big show and the tour."