CMT RoundUp: New Music From Willie Jones, Carrie Underwood, Parker McCollum and more
Hear CMT'snew music playlist CMT RoundUp in this story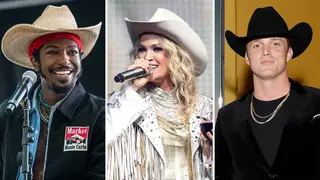 Carrie Underwood is celebrating her 40th birthday by releasing a new song about trucks for her fans. Willie Jones, Parker McCollum, Tim McGraw, RaeLynn, Restless Road, Caroline Jones and more aren't celebrating anything this weekend besides new music just in time for spring. Check out CMT's The RoundUp playlist to hear CMT's choices for the best new songs in country music this week.
Tim McGraw, "Standing Room Only": "For me, this song is so positive and life-affirming," McGraw says. "It caught my ear the first time I heard it. I hope it can be a reminder to live a life filled with gratitude and not take things for granted. 'Standing Room Only' is out now. I hope you love the message as much as I do."
Carrie Underwood, "Get Out Of That Truck": "It was inevitable," Underwood says. "I knew someday I'd have a truck song. It was like having this memory or nostalgic song where you can't get over somebody, but it's because of all the physical marks you left in the space, in the truck, like the nail polish on the tailgate or the dings on the door. We wanted 'Out of That Truck' to be driving and guitar-heavy. We just wanted it to move and have some energy."
Ty Herndon and Terri Clark, "Dents On a Chevy": "I'm so excited for 'Dents On a Chevy' to head to radio as the second single from my album 'JACOB.' Jimmy Thow's production and Terri Clark's vocals send this track to the stratosphere, and I hope listeners will be turning their radios up — in their Chevys, of course — and thinking of the people in their lives who this song might apply to."
Parker McCollum, "Speed": "My song 'Speed' is about my obsession with living fast,'" McCollum says. "Life is always going a hundred miles an hour, and it's important to try and be aware of that and slow things down every now and then. As you get a little further along in life, you start to enjoy the slow and easy life. It takes a little reflection and a little step back from everything to realize how important it is."
Logan Mize, "Bloodline": "'Bloodline' is a song I've loved for a couple years and have always wanted to record it," says Mize. "My family and I live in a rural great plains town of about 900 people, and my kids go to school with all their cousins. The line where it talks about the wild kid with the grass-stained blue jeans is a visual that I'm used to seeing so often with my 11-year-old son's backyard football games. The mud up the side of a Chevrolet....we live on a dirt road. We just really live this song, and that's why I felt it was such a great lead track for my upcoming project."
Willie Jones, "No Tellin'": "I've had 'No Tellin" ready for a while, but it wasn't the right time," Jones says. "Country music needs a club banger, so I finally said to the team, 'Let's drop it!' I've tested it on tour and with my DJ's homies, and the reaction is always real swell. Shout out to Chris Stevens and my guy Mars who helped bring those drums to another new level."
Raelynn, "Broken One": "I'm so excited for this song to finally be out in the world," Raelynn says. "I teased the song last December, and the fan response has been overwhelming. It's my follow-up to 'Love Triangle,' and I'm hopeful it brings a lot of healing and encouragement to people."
Restless Road, "I Don't Wanna Be That Guy": "Musically, 'I Don't Wanna Be That Guy' has a really cool moody swagger that stands out from our other songs," says Zach Beekan. "It's sung from the perspective of someone who wasn't looking for love, so there is a lot of romantic tension in the song that comes along with a new relationship."
Caroline Jones, "Lawless": "I love how the sonic landscape evokes the images in the lyrics," Jones says. "'Lawless' compares love to the Wild West, in which desire, desperation, and dreams rule at all costs. I love the line 'you care so damn much you couldn't care less,' which captures the out-of-control, both terrifying and electrifying high that is devotion."
Track45, "Hate Me": "We wrote this song as a musical slap in the face to help KK get over a guy she was hung up on," says Track45. "This is the perfect song to scream-sing in your car to that person you wish would hate you, so it's easier to move on."