Justin Moore Paints a Picture of the Very Worst Day
New Video for "The Ones That Didn't Make It Back Home"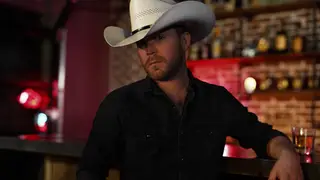 It's all the little things that make this ballad from Justin Moore make your heart stop: the green bean casserole, the knock on the door at 2:00, and the yellow ribbons around the oak trees that nobody wants to see. But while the story in "The Ones That Didn't Make It Back Home" starts with a mother losing her son to the war, it doesn't end there. There are police officers, first responders, school teachers, firefighters, and all kinds of heroes fighting for lives of people they don't even know. The song is from Moore's fifth studio Late Nights and Longnecks, and he penned the tune with Paul DiGiovanni, Chase McGill and Jeremy Stover. This moving music video was directed by Cody Villalobos.