CMT's Next Women of Country Inspire Positive Change
See Inside Details and Photos from the 2019 Event with Maren Morris, Cassadee Pope and Others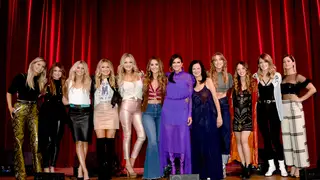 A major contingent of Music Row professionals paused their hectic CMA Awards week to pack into Nashville's City Winery for CMT's Next Women of Country showcase on Tuesday (Nov. 13).
Those who were there were treated to an inspiring brunch that served a heavy dose of empowering performances by rising women in music. The No. 1 takeaway from the sixth annual event was to inspire positive change by giving the opportunity for women to support other rising female voices in today's multimedia environment.
The 2019 CMT Next Women of Country tour headliner Cassadee Pope and CMT SVP/Music Strategy Leslie Fram co-hosted the proceedings with special appearances by hitmaker Natalie Hemby and Little Big Town's Karen Fairchild, the latter of whom introduced members of the 2019 class.
The new inductees are Anna Vaus, Emily Hackett, Ingrid Andress, Lainey Wilson, Lauren Duski, Leah Turner, Rachel Wammack, Stephanie Quayle and Tenille Townes.
"We all in this room have the collective power to bring on change," Fram said, "changing the rules, making new rules so that we can get back home to where we used to be and what I mean by getting back home is I'm talking about a home where there is an equal playing field for female artists.
"Everyone says, 'Let the best songs win,' and we truly believe that [whether they are performed by] male or female [artists], let the best songs win, but we do need that equal playing field," she continued. "We need that to enact fairness on the charts, playlists and not to have to hear there's only one slot for a female. After you get inspired today, which you will, let's continue that mission of making real positive change."
Maren Morris, the 2018 Impact award recipient, echoed the call for positive change when she received her award. Before taking the floor, Hemby shared a long list of her accomplishments that primarily happened shortly after Morris made her debut at the showcase in 2016. "The awards, everything, that did not exist 36 months ago," Morris said. "A lot has changed in such a short amount of time. I remember playing this two years ago, playing 'My Church,' and I was so brand new, I was just so excited and very inspired by every woman I was being inducted into this with. It's just so inspiring.
"I hope in my short time as a representative of country music, I've been impactful to some of you because I am so in tune with what's going on with women right now. I was just talking with the Sisterhood and Tenille Townes, Cassadee and Natalie, these women are so effing good, they deserve this platform because eventually country radio is going to get it's [expletive] together and play everyone."
Backstage Pope expressed her thoughts as to why the female perspective is so important in today's music.
"Sometimes people think there's a limitation to what we can say, but there's not," Pope said. "I think that's something that's been programmed into our heads and into people's heads in the industry, but the sky's the limit to what we can say. I understand being a little afraid of baring certain feelings. But I think it's important for us to be bold and daring because everybody in the world, all these women have felt the same way we are feeling in our songs. It's important to no matter how scary it is, to let it all out."
She added she wouldn't be where she is today without seeing other women onstage when she was a rising musician.
"It's always been inspiring," she said. "The women that make it and do really well, they're huge. They're not just little blips in the history of women who succeed. My vision for myself is playing arenas and stadiums because that's the kind of people I saw as a kid growing up. I saw Shania Twain, I saw Avril Lavigne and people like that who were just larger than life. It's really inspiring, and it allowed me to just have a bigger goal for myself."
The CMT Next Women of Country concert was a traditional guitar pull with intimate acoustic performances by Duski, Hackett, Townes, Andress, Vaus, Wammack, Clare Dunn, the Sisterhood, Carly Pearce and Kelleigh Bannen.
Enjoy scenes from the 2018 event, and join the conversation on social media using #CMTNextWomen: